South San Francisco, CA   September 2, 2018 Submitted by SSFPD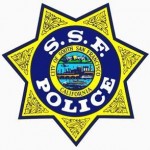 On September 1, 2018 at approximately 2:20 A.M., South San Francisco Police Officers responded to the 10 block of Shasta Court on the report of a stabbing. Officers located the victim in the street suffering from multiple stab wounds. Officers provided First Aid to the victim until paramedics arrived on scene. The suspect, Brendan Harris, fled the area prior to the arrival of officers, but was located and arrested a short time later. The victim was transported to a local hospital with life threatening injuries.
If you have any information regarding this case, please contact the South San Francisco Police Department at (650) 877-8900 or the Anonymous Tip Line at (650) 952-2244.  You  can  also send  an email to tip@ssf.net.
ARREST INFO (OMIT NAMES OF JUVENILES)
(cont. on reverse) D
NAME        Harris, Brendan Ira                                         
NAME                                                                                                                           
CITY OF RESIDENCE            South San Francisco                 OCCUPATION          Bartender                                                          DATE OF B[RTH 10-27-83   AGE 34
CITY OF RESIDENCE                                                                                                  OCCUPATION                                                
DATE OF BIRTH                        AGE
HT        6'3″      WT       170       HAIR        Brn      EYES         Brn    HT                       WT                          HAIR                          EYES                
BOOKING STATUS           San Mateo County Jail                        
(bail amount, where held, etc.)
BOOKING STATUS                                                                                                
(bail amount, where held, etc.)
CHARGES         I 664/187 PC                                                                                CHARGES
(warrants, ho lds, penal code)                                                                                     (warrants, holds, penal code)
ACCIDENT AND /O R VICTIM INFO (UNLESS CONFIDENTIALITY REQUESTED)
NAME           Confidentiality                                        ADDRESS                                                                                                                             AGE                              
INJURIES                                                             WHERE TAKEN                                                                          OCCUPATION