South San Francisco, CA    September 10, 2018 Submitted by SSFPD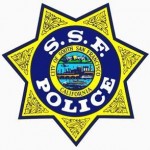 On Friday September 7, 2018, South San Francisco Police Detectives were following up on suspicious activity in the area of the 400 block of Cabot Road and located a large scale Marijuana Cultivation Operation inside a warehouse. Two suspects were contacted at the location and were later found to be two of the primary cultivators. Upon discovery of the operation, agents assigned to the San Mateo County Narcotics Task Force responded to the scene to take over the investigation. Agents from the Narcotics Task Force and officers from the South San Francisco Police Department dismantled the operation and discovered there were in excess of 10,000 Marijuana plants in various stages of growth. Agents believed the operation was a multi-million dollar a year operation which had been operating for approximately 2 years.
Multiple agencies responded to the scene to determine any additional violations which may have been committed to include representatives from the San Mateo County Environmental Health Department, South San Francisco Building Department and PG&E. This effort was a great example of teamwork between multiple agencies to dismantle a large, illegal operation which impacted not only the community, but also the surrounding environment.
The South San Francisco Police Department would like to remind business owners, employees and residents to be aware of suspicious activity in their areas and report all suspicious activity to the Police Department. Calls can be made to (650)877-8900 or the anonymous TIP line at (650)952-2244.
ARREST INFO {OMIT NAMES OF JUVENILES)                  (cont. on reverse) 0
NAME           Chris Cameron
NAME         Robert Cummings
CITY OF RESIDENCE              San Francisco                                 CITY OF RESIDENCE                               Oakland                                        
OCCUPATION          Contractor                                                  OCCUPATION
-S-erv-er ————
DATE OF BIRTH 02/04/1967       AGE  51                                                      DATE OF BIRTH 10/05/1958        AGE 59
HT    5'10"          WT       240         HAIR       Blonde     EYES       Brown     HT       6′          WT       175          HAIR       Brown     EYES                              Hazel
BOOKING STATUS                                                                                                  BOOKING STATUS
(bail amount, where held, etc.)                                                                                   (bail amount, where held, etc.)
I CHARGES         I 11358(c) H&S                                                                   I  CHARGES            I 11358(c) H&S                     
(warrants, holds, penal code)                                                                                     (warrants, holds, penal code)