South San Francisco, CA   October 5, 2018 Submitted by SSFPD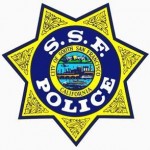 South San Francisco to participate in National Bike/Walk to School Day Oct. 10
South San Francisco, Calif.- The South San Francisco Police Department and the South San Francisco Unified School District will join hundreds of schools from across the state to celebrate National Bike/Walk to School Day Oct. 10. Bike/Walk to School Day provides students and families the opportunity to get active, reduces traffic around schools, and teaches children how to use roadways on foot or two-wheels safely.
In partnership with the South San Francisco Police Department and the California Office of Traffic Safety (OTS), the annual Bike/Walk to School Day will serve as a way to educate children, parents/guardians and the community on best traffic safety practices to and from school.
Members of South San Francisco Police Department will also join the walk and bike ride and will be deploying traffic/patrol officers to the neighborhoods near schools to enforce traffic laws reminding everyone of the importance of pedestrian and bicycle safety this day and every day around schools.
The South San Francisco Police Department offers lessons parents/guardians can teach their children participating in Bike/Walk to School Day, as well as tips for drivers who will make their way through school zones:
Children
Always use a crosswalk when crossing the street. Look both ways to make sure it is safe to cross.
Encourage your child not to wear earbuds when walking, and test them on traffic rules, such as stopping at stop signs and signals.
If riding your bike to school, ride single file in the bike lane with traffic. If riding on the sidewalk, look out for people walking.
Walk to school with friends or in a group.
Drivers
Drive slowly and with caution in school zones. School zones have reduced speed limits (as low as 15MPH) when children are present.
Do not text or talk on your cell phone while driving.
Keep an eye out for children walking in the street.
Consider using a route away from a school to save time.
Look for school buses and know what to do around them. Overhead flashing yellow lights indicate you should prepare to stop, hazard flashing yellow lights means drive with caution and overhead flashing red lights means stop. The law requires drivers to stop in both directions until children are safely across the street and red lights stop flashing.
ABOUT BIKE/WALK TO SCHOOL DAY
The first Walk to School Day event began in 1997 by the Partnership for a Walkable America to encourage children to be familiar with their neighborhood and emphasize ways to make trips to and from school safe and fun. With more children bicycling to school, the first National Bike to School Day started in 2012, and now the one-day event encompasses thousands of schools across the country, and more than 40 countries worldwide.
To learn more about Bike/Walk to School Day, visit www.walkbiketoschool.org. You can search for participating schools here: www.walkbiketoschool.org/registration/whoswalking.php?sid=CA.
To learn more about Safe Routes to School, and ways to implement projects and activities that promote safe walking and bicycling to school every day, visit www.saferoutesinfo.org.