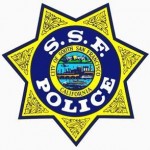 South San Francisco, CA   November 6, 2018 Submitted by SSFPD
On 11/05/2018 at approximately 7:49 A.M., a shooting occurred on the 2200  block  of  Gellert Boulevard. Two suspects, who were identified  as South  San Francisco  residents,  23yo Jose Luis Hernandez and 22yo Aron Hernandez, accosted the victim while  he was stopped in his vehicle on Gellert Boulevard.  One of the suspects, exited their vehicle and fired an unknown  weapon into the vehicle. The victim, who was  an acquaintance  of the suspects, escaped  unharmed.   The suspects  fled  the scene and  were apprehended a short time later by South San Francisco Police Officers.
This is an isolated incident and there are no outstanding suspects or further public safety threat. Anyone who has information regarding this case is encouraged to call the South San Francisco Police Department's Criminal Investigations Bureau at 650- 877-8900, the anonymous TIP Line at 650-952-2244 or anonymous tips can  be  forwarded  to tips@ssf.net.