South San Francisco, CA  December 18, 2018 Submitted by Pennie Rorex, Rorex Marketing/SMC Fairgrounds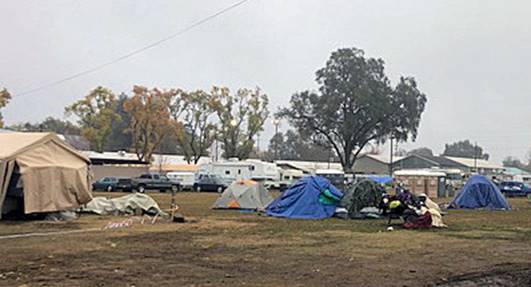 San Mateo, CA: The San Mateo County Fair proudly joined the network of California Fairs to fulfill a crucial role in supporting relief efforts for the recent Camp Fire in Butte County.
Maintenance staff from the San Mateo County Event Center and Fair spent over a week at the Butte County Fairgrounds. In addition, the San Mateo County Fair helped to spearhead donation efforts to provide temporary maintenance staff with housing assistance while volunteering in Butte County.
"Most people envision a fairground as a place for Ferris Wheels and family fun and it is certainly that," said Dana Stoehr, chief executive officer of the San Mateo County Event Center and Fair. "However, while producing the annual fair is a primary function of the state's fairgrounds, California fairgrounds also function as emergency evacuation centers during local and state emergencies and disasters."
Approximately 300 individuals and 700 animals were in residence at the fairgrounds in early stages of the Camp Fire, according to the Department of Food and Agriculture, Division of Fairs and Expositions.
San Mateo County Event Center and Fair maintenance technicians Tyler McClure, Carlos Real and Juan Naranjo spent an average of nine and a half hours daily assisting with maintenance operations. "We were given an opportunity to volunteer our services and we did," said McClure. "It was a tragic situation and it motivated us to want to help." McClure's sentiments were echoed by Naranjo, "I volunteered to go so that I could have a chance to help people and give relief to others who are going through so much."
For the three San Mateo maintenance technicians, operating as an emergency operations center was an eye opener. They witnessed hundreds of displaced people living in tents on cold rainy days and nights. They also witnessed several hundred rescued animals, including pigs, chickens and horses. The animals at the fairgrounds during relief efforts were displaced from pastures and barns, and some of the animals were separated from their rightful owners.
Real, who has worked for the San Mateo County Event Center and Fair for 11 years, shared that he had not witnessed loss of this caliber in his lifetime. "I was sad to see all those people who had lost everything, many were just wandering around."
While the three San Mateo maintenance technicians were working long hours in Butte County, the remaining San Mateo maintenance team was working long hours, too. "To make it possible for three of our team members to provide aid in Butte County, our other team members worked extra and extended shifts here to cover work normally handled by the other three," said Cindy Spencer, director of facilities and production at San Mateo County Event Center and Fair.
"It was a good, yet humbling experience for all of us," said Stoehr. "Fortunately, most of our team has not been exposed to something this devastating before. It was a life lesson for all of us and we are so grateful that we could help."
Other fairs assisting with relief efforts included Kern and Orange County. Those teams provided staff support after the San Mateo team returned home. Spectra Food Services and Hospitality also donated funds to support those displaced at Butte.
The San Mateo County Fair is the Peninsula's premier community event for family fun and entertainment and serves as an emergency resource to the San Mateo County community, under the office of Emergency Services.
Visit sanmateocountyfair.com for regular updates, contest entry, ticket giveaways and promotions. #SMCF2019.