South San Francisco, CA  December 18, 2018 Submitted by StanfordGraduate School of Business Communications
EDITORS NOTE: As many of our students prepare for their future this report offers an interesting perspective of choices made by graduating MBA students from Stanford University in 2018.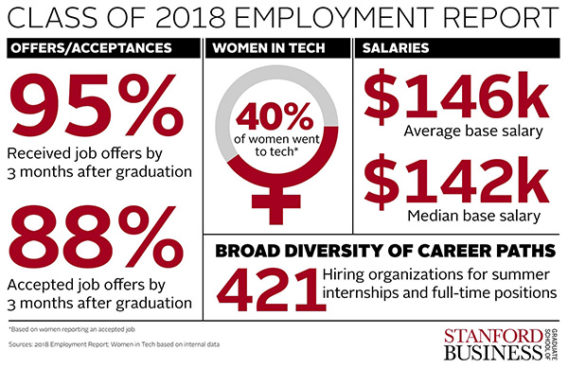 The MBA Class of 2018 broke records for salaries for the fourth consecutive year, yet their career choices were not about chasing the money.
"Our graduates pursued roles where they can make a difference in the world and have [a] positive impact on the greater economy, regardless of salary," said YOSSI FEINBERG, senior associate dean for academic affairs at Stanford Graduate School of Business, in releasing the 2018 Employment Report.
"That said, we've had another year of a strong employment market for our MBAs," Feinberg said. "Not only did our graduates break previous years' records for compensation, but also we had a record 421 organizations hire our students for summer internships and full-time positions, a signal of the broad diversity of career paths our students followed."
In other highlights, interest in entrepreneurship remained flat at 16 percent; technology jumped up, with participation from women continuing to exceed that of men for the second consecutive year, doubling since three years ago; the percentage of women going to private equity and venture capital held on to gains from last year; at 12 percent, interest in socially responsible roles was similar to last year; and 39 percent of students who reported accepting a job also reported receiving equity compensation.