South San Francisco, CA   January 24, 2019  by SSFUSD Board President John Baker
A personal statement about SSFUSD school safety and our incident this morning:
Just yesterday morning, the Board, Superintendent, assistant superintendents, and our SSFPD School Resource Officers joined representatives of other school districts and law enforcement at the San Mateo County Office of Education's annual Coalition for Safe Schools & Communities meeting. As a group, we discussed progress since last year, best practices, and got a refresher on our Big 5 School Emergency Protocols (see link). We even had a round table among our SSF group to make sure the police and school district had proper communication procedures in place.
Little did we know that about 24 hours later we would have to put part of our protocol into motion with today's incident near Buri Buri. As soon as 911 was called from the school's office, the campus went into "secure campus" because the threat was determined to be in the neighborhood, but not on campus. The difference between a secure campus and a lockdown is subtle, but significant. In secure campus, all doors (both internal and external) are locked, and trips outside the classroom (bathrooms, lunch, recess, etc.) are cancelled until law enforcement gives an all-clear. Unlike in a lockdown situation, however, instruction goes on and our kids and staff are not in hiding.
While this incident was resolved relatively quickly and a notice was sent out as soon as the all-clear was given, I understand some families wanted information sooner. That desire is understandable, but in a secure campus situation, our onsite staff is tasked with checking that our lockdown procedures are in effect and need to follow instructions from law enforcement. In this case, because our office staff was involved also in giving aid to a crime victim, they were doubly busy. The District office also needs to ensure the information we put out is accurate, and our staff was in communication with the police while the situation unfolded.
I want to commend and thank the staffs at both Buri Buri and Alta Loma for their clear heads, concerns for our students' safety, and their service on what turned out to be a stressful morning. While we can't always predict what particular crisis will affect our schools, we can plan for what to do if that particular crisis arises. And by all onsite accounts, our staffs performed excellently today.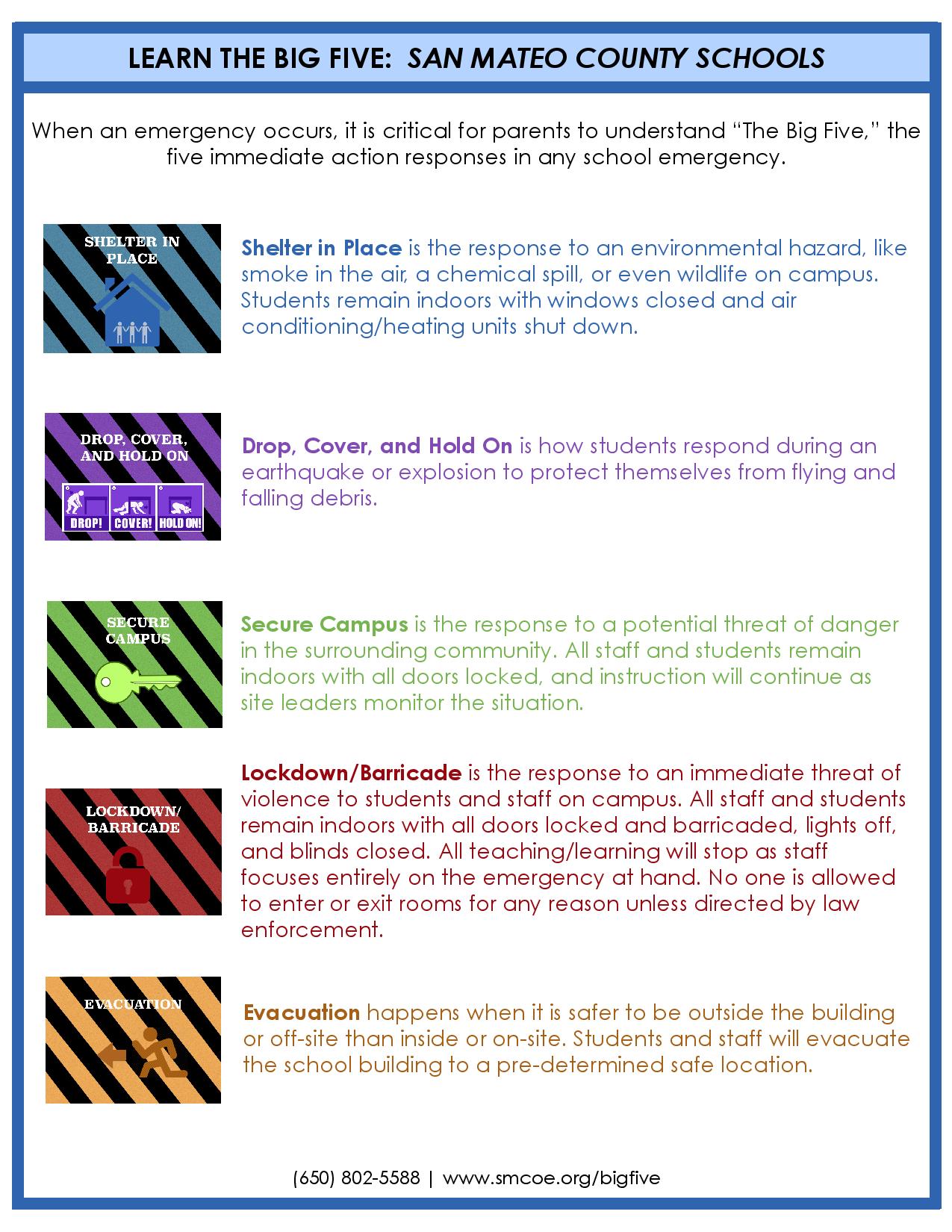 ###
The Big Five – School Emergency Guidelines
At a Glance
The back-to-school season is a good time for administrators to review emergency plans with staff and for parents to review safety rules with their children. We want to share with parents and community members the safety protocols currently in place across the county and in our schools and to reassure them the safety of our children is our top priority.
San Mateo County's Coalition for Safe Schools and Communities is a collaborative, multi-agency group that was formed in 2013, following the fatal shooting of 26 students and staff at Sandy Hook Elementary School in Newtown, Connecticut. The mission of the Coalition for Safe Schools and Communities is to identify and address safety needs of county youth, to work across agencies to implement best practices in emergency response and mental health, and to support with a legal framework for lawful information-sharing, using a common language.
Through this collaborative process, the Coalition produced the Big Five, a common emergency plan adopted by all San Mateo County School Districts and law enforcement agencies. The Big Five protocol supports high quality training for school staff and community members and ensures clear channels of communications with schools, first responders, parents and community members should an emergency occur.
In addition to the Big Five, the Coalition released a Student Threat Assessment Protocol and Suicide Prevention Toolkit in August of 2017, and to date it has provided training to every school district in San Mateo County, along with several private schools. While not a foolproof method of assessing risk, the Student Threat Assessment Protocol provides every school with an evidence-based process and is intended to provide early intervention and support to students who may be struggling. To support this process, there is also a countywide Level Two Student Threat Assessment Team that meets on a regular basis to review cases.
Resources:
The Big Five – One Page Overview –
The Big Five – School Emergency Guidelines – Includes the protocol definitions and expanded descriptions of when to employ each of the five protocols
The Big Five – Administrator and Staff Packet – School administrators may contact Nancy Magee at nmagee@smcoe.org if they are interested in additional resources. An administrator packet and a staff packet, both of which include Step-by-Step guidelines, are available.
It is our hope that through our continuing collaboration and effort, San Mateo County can stand as a model of 21st century school emergency response.
In September, PEN TV host Dani Gasparini interviewed Nancy Magee, Associate Superintendent, Student Services Division, San Mateo County Office of Education, and Jeneé Littrell, Director, Safe and Supportive Schools. Topics discussed include The Big Five.