South San Francisco, CA  February 17, 2019
St Paddy's Day at Molloy's Tavern is a month long of celebration as any good Irish bloke or lass will tell you! Come out on Saturday March 9th at 8pm and enjoy some LIVE MUSIC featuring Doug Barrett and the Deal Breakers as a warm up to March 17th when Molloy's drink specials start pouring at 11am!
May the luck of the Irish always be with you!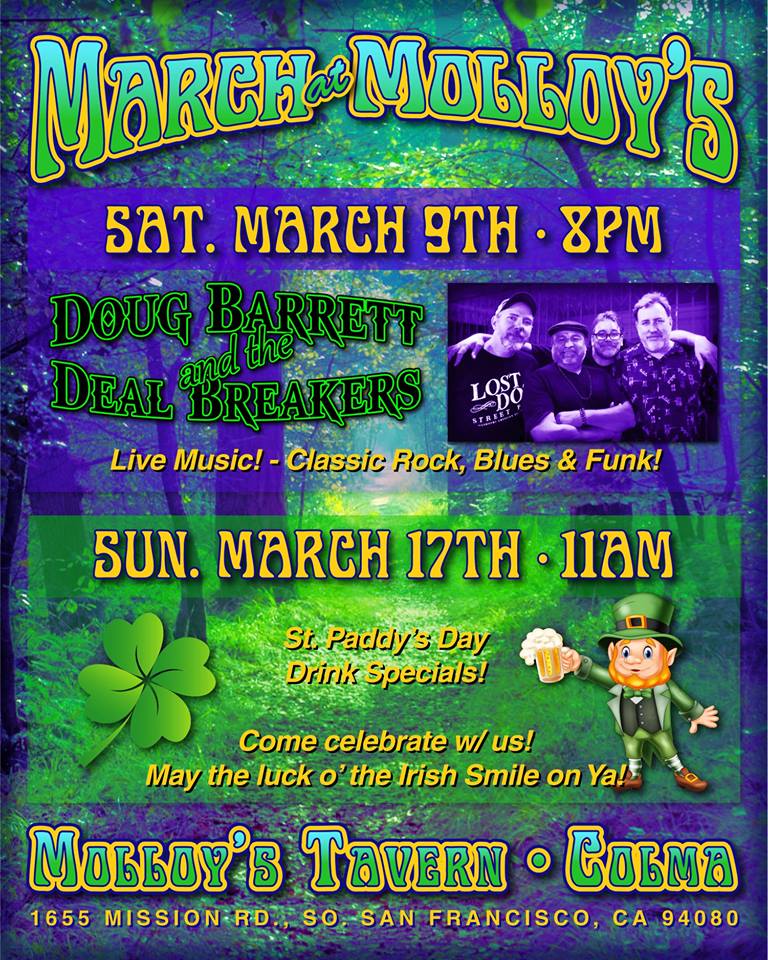 ABOUT DOUGH BARRETT AND THE DEAL BREAKERS:
Doug Barrett & the Deal Breakers is a SF peninsula-based blues/rock power trio comprised of 4 long-time friends who've played together in various incarnations since high school. Their kinship is evident in the way their music grooves and gels together. Their repertoire ranges from classic Delta & Chicago blues standards (SRV, the 3 Kings, Taj Mahal) to blues-based, classic-rock gems (ZZ-top, Allman Bros., Hendrix, Cream). Doug Barrett serves up the blazing yet tasty guitar solos on guitar. Justin Wooster keeps things gritty & soulful, pulling double-duty on drums and lead vocals. Paul Sassenberg holds the bottom end down in the pocket on bass. Vince Arellano brings the party as the visual focal point of the band on percussion, vocals and improvised acrobatics.