South San Francisco, CA   February 20, 2019 Submitted by Kathleen Kearney | Director of Sales SSF Conference Center
The South San Francisco Conference Center is excited to celebrate 'The Next 25'  on April 17th** and invite the public to attend. Participants will enjoy a bounty of small bites with entertainment provided by Lavay Smith and Her Red Hot Skillet Lickers. {update edit date}
Tickets are $50 and include two drink tickets. CLICK HERE to purchase yours today!
Proceeds will benefit the South San Francisco Emergency Response Team.

Since it's opening in 1993, The South San Francisco Conference Center has hosted numerous events as a full-service meeting and conference facility, with 3000-plus hotel guest rooms in the area to accommodate small gatherings to larger corporate events.
In 2015, The South San Francisco Conference Center received LEED Gold certification, the first public building to do so in South San Francisco.  The certification was earned based on achieving the exceptional standards of pollution prevention and conservation of natural resources including: recycling, energy performance, water efficiency, transportation, and green cleaning.
The South San Francisco Conference Center includes 20,500 square feet of unobstructed, flexible space comprised of 13 meeting rooms with ease of access for vendor set-up and deliveries.  It is conveniently situated between San Francisco and Silicon Valley, near the San Francisco International Airport and located in South San Francisco, the birthplace of bio-technology.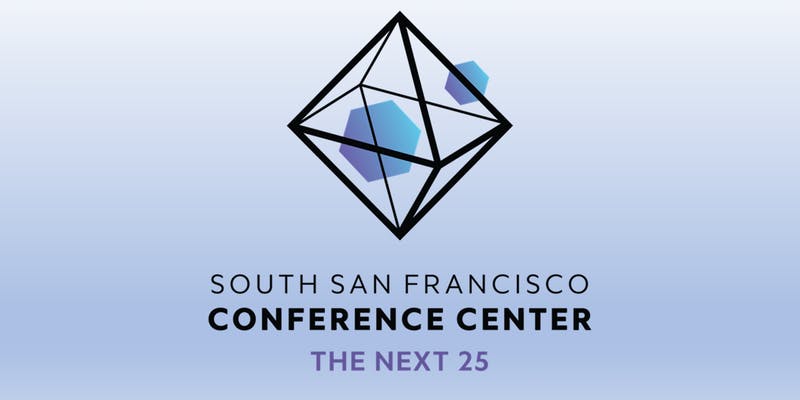 A message from Mayor Matsumoto on this anniversary event follows:
I am pleased and excited to invite you to join South San Francisco and Bay Area businesses in celebrating not only the 25th Anniversary of the South San Francisco Conference Center but its Next 25 Years!

The Conference Center has been touted by the local travel industry as the premier conference facility on the San Francisco Peninsula.  Established in 1993, the South San Francisco Conference Center, in partnership with surrounding hotels, has hosted thousands of conferences, corporate meetings, special events and receptions of all sizes in the center of America's Biotechnology Zip Code 94080.

On April 17, 2019 at 6:30 pm, over 600 business, civic and community leaders, and event planners will gather to celebrate the success of this award-winning LEED Gold Certified Building.  The Next 25 will allow us to showcase the notable meeting spaces of the Conference Center and, as a thank you; Lavay Smith and Her Red Hot Skillet Lickers will perform.  The Conference Center is an active community partner, hosting many local events and community organizations.  In this spirit, they will be honoring the South San Francisco Community Emergency Response Team (CERT – a volunteer group of over 100 men and women who assist police, fire, businesses and residents in case of emergencies).  Proceeds from The Next 25, will go to providing them with equipment and supplies.

To help provide and offset the cost of this memorable celebration to our clients and provide you with another opportunity to reach your target audiences, we have corporate sponsorships available.  Included is a list Sponsorship Levels and Incentives that your company can enjoy should you decide to become one of our Corporate Sponsors.  If you are ready to participate, please complete and return the Sponsorship Form (BELOW).  Sponsorships for certain levels are limited, so if you are interested, we'd appreciate hearing from you soon!

Should you have any questions, please contact Kathleen Kearney, Director of Sales directly at 650-877-5205 or kkearney@ssfconf.com.  If you prefer, she will be happy to meet with you to answer questions and provide additional information.

Respectfully,

Karyl Matsumoto

Mayor

City of South San Francisco
###
 About SSF CERT:
Following a major disaster, first responders who provide fire and medical services can be overwhelmed with the demand for these services. Factors such as number of victims, communication failures, and road blockages will prevent people from accessing the emergency services they have come to expect at a moment's notice through 911 system.
People sometimes may have to rely on each other for help in order to meet their immediate lifesaving and life sustaining needs. In 1994, the South San Francisco Fire Department established a Community Emergency Response Team (CERT) Program to assist our citizens in helping themselves. Our CERT Program educates ordinary people about disaster preparedness by providing training in basic disaster response skills, such as fire safety, light search and rescue, communications, and CPR/First Aid. With proper CERT training, you can help protect your family, neighbors, and co- workers if a disaster occurs.
CERT training gives our members a better understanding of the potential threats to their home, workplace, and community and instructs them how to lessen the effects of these hazards. If a disaster happens that overwhelms local response capability, CERT members can apply the training learned in the classroom and during exercises to give critical support to their family, loved ones, and neighbors.
Thank you for taking an interest in learning how to prepare yourself for a disaster and helping your community, we welcome you to join our team. Please contact me directly via email ken.anderson@ssf.net to learn about when the next academy starts or if you have any other questions.
Ken Anderson Sr, SSFFD Emergency Services Manager
###