South San Francisco, CA  March 16, 2019
'Save Baby Alena – Fighting Brain Cancer
God makes miracles. We just have to believe.'
These are the words of hope and faith, the Garcia Costino family and friends cling to as they seek medical help in Texas for eight-month-old Alena who was diagnosed last December with grade 4 Glioblastoma Multiforme, a fast growing, biologically aggressive tumor that presents unique treatment challenges.
In December, Alena had a mild fever, which brought her parents, Ashley and Freddy, to seek medical care at which time they learned the shocking news; their 5 month-old baby had a brain tumor. A rare and fast growing one that required a craniotomy (brain surgery) to remove the tumor and follow up chemotherapy. The medical team at Lucille Packard Children's Hospital – Stanford were optimistic until further testing in February showed the tumor had returned, and with a vengeance, now at the size of a golf ball. "Ashley and Freddy were more devastated when the doctor asked if we wanted to go home and let nature take its course. They can no longer cure her, but only buy her a little more time of life." the gofundme site explains.
Through extensive research, the Costino's found another ray of hope in medical treatment by a doctor in Texas, and after speaking with other parents who had walked a similar path, they made the decision to give this their all. And that is where they are today, in Texas fighting the fight of their lives to save their precious baby girl.
Because the expenses are so high at a time when the family must focus on their daughter's health, fundraisers are being set up to help find a way to ease the financial burden added to this families life, so unexpectedly. Generous support from our South San Francisco community, and beyond, is needed and appreciated.
The GOFUNDME page can be found HERE where donations can be made to help. Donations can also be made directly to the family, payable to the father Alfred García and mailed or dropped off at Carniceria Tepa (801 Linden Avenue, South San Francisco, CA 94080)
In addition, there is a MAJOR Raffle Fundraiser set up by the family of one of South City's favorite market, Carniceria Tepa on Linden Avenue. Raffle winners will be picked on Friday April 19th at 6:30PM in the store's parking lot (801 Linden Ave). Raffle tickets are $20 each with 20 great prizes being offered, thanks in part to the following generous businesses:
Carnicería Tepa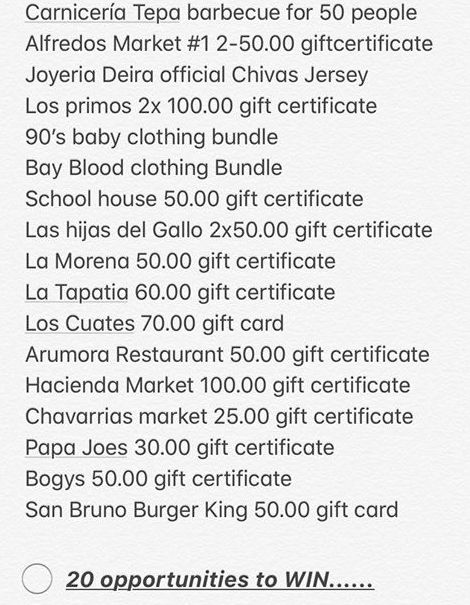 Joyería Deira
Alfredo's market #1
School House
Amoura Restaurant
90's baby clothing
Bay Blood clothing
La Tapatia
Burger King San Bruno Town Center
Los Cuates Taqueria
Las Hija del Gallo Bakery
La Hacienda Market
Las Chavarrias
La Morena Taqueria
Bogy's Hofbrau
Papa Joe's
Los Primos Market San Bruno
WHAT YOU CAN DO:
Donate via the GO FUND ME CLICK HERE
By check payable to Alfred Garcia (Alena's father) C/O Carnicería Tepa 801 Linden Ave, SSF (cards welcomed too!)
Purchase raffle tickets $20/ea available at Carnicería Tepa
Attend the raffle drawing at Carnicería Tepa on Friday April 19th at 6:30pm in the parking lot
Pray
Share this information
Support these shops that are supporting Baby Alena's fundraising raffle, thank them when you shop at each store/eatery.
###
Everything South City will provide updates as they become available.