South San Francisco, CA   March 1, 2019  Submitted by SSFPD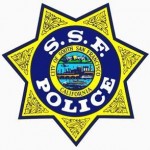 On Thursday, February 28, 2019 at approximately 9:04 PM, a 38 year old South San Francisco resident was struck by a vehicle as he was crossing Grand Avenue at Eucalyptus Avenue. The male sustained major, but non-life threatening injuries, and he was transported to a local trauma center for medical attention. The driver of the vehicle remained at the scene and has been cooperative with the investigation. Neither alcohol, nor drugs are suspected to be factors in the collision.
If anyone has any information regarding the collision, please contact the South San Francisco Police Department at (650)877-8900.