South San Francisco, Ca   March 20, 2019  Submitted by SSFPD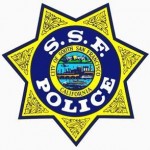 WARNING: Scammers using "spoofed" SSFPD phone number
The South San Francisco Police Department is issuing a warning to residents to be on alert for a phone scam that spoofs the SSFPD telephone number (650-877-8900) on the victim's caller ID. The scam involves someone claiming the victim is "under investigation", has a warrant, or subject to arrest for various reasons including having bad credit or an outstanding parking ticket. In most cases, the suspect threatens the victim with arrest unless they pay fees via MoneyGram or prepaid gift cards.
The originating telephone number used by the scammer is displayed or "spoofed" as the telephone number for the South San Francisco Police Department. This is a common scam which has occurred in many jurisdictions across the country in which scammers "spoof" local, state, or federal law enforcement numbers (including the IRS) in order to trick victims into sending them money.
The public is reminded that the South San Francisco Police Department does not call private citizens requesting money. There are a number of ways people with criminal intentions can obtain your name, phone number, or e-mail address. The South San Francisco Police Department reminds you to limit the information you freely provide online, including on social media sites. Phone scammers typically use fear, intimidation, and threats to get a victim to send money.
To protect against fraud:
Never give out personal information to someone you did not initiate contact
Be leery of anyone you did not initiate contact with who asks for payment using a third party such as MoneyGram or prepaid gift
Scammers count on your lack of knowledge, so take the time to educate yourself about any offer you
Individuals receiving such calls are encouraged to end the call immediately. If you are a victim of a scam and suffer a monetary loss, please report the incident to your local police department. As most of the suspects in these cases are oversees, individuals receiving such calls are also encouraged to file a complaint through the FBI's Internet Crime Complaint Center at www.IC3.gov.