South San Francisco, CA   March 19, 2019 Submitted by Ryan Sebers, Director of Student Services, PIO, SSFUSD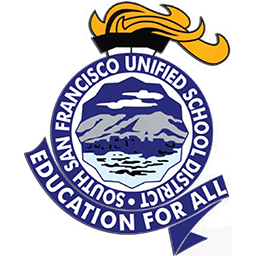 Ponderosa Elementary School
Each year, Innovate Public Schools celebrates Bay Area public schools achieving excellent results for low-income Latino and low-income African American students.
Ponderosa Elementary School is one of 51 schools being recognized this year in Innovate Public Schools' fourth annual report, "Top Bay Area Public Schools for Underserved Students", based on the school's strong results in English and/or math for low-income African American and/or low-income Latino students in the 2017-18 school year. The report will be released publicly in April, followed by an event at which Ponderosa will be honored on Saturday, April 27th.
El Camino High School
El Camino High School has earned the College Board's AP® Computer Science Female Diversity Award for attaining female student representation in AP Computer Science Principles for 2018. Among the more than 18,000 secondary schools worldwide that offer AP courses, El Camino High School is one of only 685 that have achieved this important result.
El Camino High School Principal
The Armenian National Committee of America – Western Region Education Committee, has selected Mr. Daniel Lunt, Principal of El Camino High School, to receive the Armenian Genocide Education Award. Mr. Lunt has demonstrated an exemplary commitment to providing educators and students access to resources that support understanding of the Armenian Genocide and other crimes against humanity. His efforts help to shape an empathetic, informed, and tolerant generation.
Mr. Lunt will be recognized at The Armenian National Committee of America's third Armenian Genocide Education Award Luncheon on Saturday, March 23, 2019, at De Luxe Banquet Hall in Burbank. The Luncheon will also celebrate and honor K-12 educators from public schools who have gone above their call of duty to teach their students about the Armenian Genocide.