South San Francisco, CA   March 12, 2019 Submitted by Allison from the Women's Wellness Center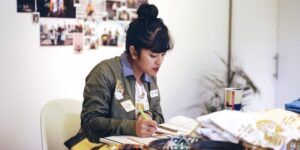 We are the Women's Wellness Center of South City and we would like to invite women to attend our March You Matter Meet-Up on Bullet Journaling. The event is Thursday, March 21 from 6:00p – 7:30p. More information can be found (here) and we ask that women please register so we have enough materials.
Francesca Villa Mateo will teach us all about this super effective form of journaling.
About this Event
About the event:
The Women's Wellness Center is so excited to bring you this You Matter Meet-Up on Bullet Journaling
This workshop is for those new to the "bujo" community and those who've tried it before but got overwhelmed (we promise this workshop will make it less scary!) Learn how to approach a brand new notebook and turn it into your go-to tool in reaching your goals.
According to BuzzFeed, the definition of Bullet Journaling is, "a method of journaling and note-taking that uses bullet points as the core structure." In other words, bullet journaling is like a DIY planner AND journal.
Journals, snacks, and drink provided!
—————————————————————–
6:00 – 6:10: gather, check-in, snack, mingle
6:10 – 6:25: welcome and intros
6:25 – 7:25: Plan with Me with Francesca Chi Chai Villa Mateo, founder of Empire in the Air
7:25 – 7:30: closing comments
—————————————————————–
About the series and the space:
This event is part of the monthly free You Matter Meet-Up series hosted at The Women's Wellness Center in South San Francisco. These meet-ups are a chance to choose yourself. Come hang out at The Center with your girlfriends, have a glass of tea or wine, and learn something new. Past topics have included self-love, vision boarding, self-defense , and Inner/Outer Beauty.
Learn more at: www.thecentersouthcity.com