South San Francisco, CA  April 18, 2019 Submitted by HIP Housing
PLEASE NOTE: EVERYTHING SOUTH CITY IS SHARING THIS INFORMATION ONLY. PLEASE CONTACT HIP HOUSING DIRECTLY FOR MORE INFO
HIP Housing's Self Sufficiency Program assists low income families with children with housing and coaching support while parents work toward career and educational goals. One of the housing options of the Self Sufficiency Program is SHARE which enables 2-3 low income single parent families to share the home with reduced rent. The four group share properties HIP Housing owns are located in Redwood City, San Carlos, and Menlo Park. We are currently accepting referrals to the SHARE program to generate a waiting list.
What is SHARE?
SHARE is a 2 year housing scholarship for low-income, single parent families who are in school. The rent is $100/month per room. Depending on the family size, 2-3 families may share one of the homes together.
Below is a description of the Self Sufficiency program as well as the referral packet to refer a family.
If you have any questions about this program, please email Regina Martin, Program Assistant, or contact her at 650-348-6660 ex. 325.

HIP Housing's Self-Sufficiency Program is a scholarship that provides housing assistance and support services to motivated, low-income parents and/or transitional age foster youth with clearly defined education and career goals.  With housing and support services, program participants are expected to achieve financial self-sufficiency within 1-5 years.  It is not an emergency housing program and the application and selection process can be a few weeks to several months dependent upon funding.  There can be 2 pathways within the Self-Sufficiency Program:
Housing Scholarship for SHARED Housing in one of four family homes owned by HIP Housing-
1½-2 years
Single-parent families only
Client shares either a 4 bedroom or 6 bedroom home with 1 or 2 other families
Located in Redwood City, San Carlos & Menlo Park
Client pays $100 per room in monthly rent
Monthly Coaching and Life Skills workshops
Housing Scholarship for an individual apartment-
1-2 years
Single/two-parent families OR transitional age foster youth
Client rents their own home in a partner affordable housing unit OR a below market rate HIP Housing unit OR (on limited basis) the open market
HIP pays:
50% of rent up to $950 on a 1BDRM unit and 50% of rent up to $1100 on a 2BDRM unit. Client pays remainder of rent for 1-2 years based on approved educational plan.

Monthly Coaching and Life Skills workshops

**Scholarships may be extended up to 5 years with the subsidy decreasing after the 2nd year (ask Program Assistant for more details)

 

Who qualifies?

To qualify, applicants must:

Be a parent over 18 with minor children (under the age of 18) living with them OR transitional age foster youth ages 18-24.
Live, work or go to school in San Mateo County.
Have the legal right to work in the United States.
Have a low income (**under 50% of the median income in San Mateo County).

**Family of 2=$58,650; Family of 3=$66,000; Family of 4=$73,300; Family of 5=$79,200

Be clean & sober for at least 6 months (if in recovery).
Be registered for or enrolled in vocational training and/or an education program or have recently completed vocational training/education program.
Applicant's education or training program will be completed within 1 to 5 years
Applicant's education or training program will increase earning power and lead to a career that will allow the family to be financially self-sufficient.

 

What does a family need to bring when they have an appointment to apply to the Self-Sufficiency Program?

Driver's License or ID, U.S. Work Permit or Legal Permanent Resident Card
Birth Certificate
Social security card
Resume
Bank statement
Verification of school enrollment
Unofficial transcript from all postsecondary institutions
Student Education Plan (SEP) from school counselor
List of monthly expenses
Substance abuse treatment verification (if applicable)
Verification of all income sources (job earnings, cash aid, food stamps, child support, etc.)
Recent landlord reference
Recent credit score from creditkarma.com

For the children:

Birth certificate
Social Security Card
Verification of school or daycare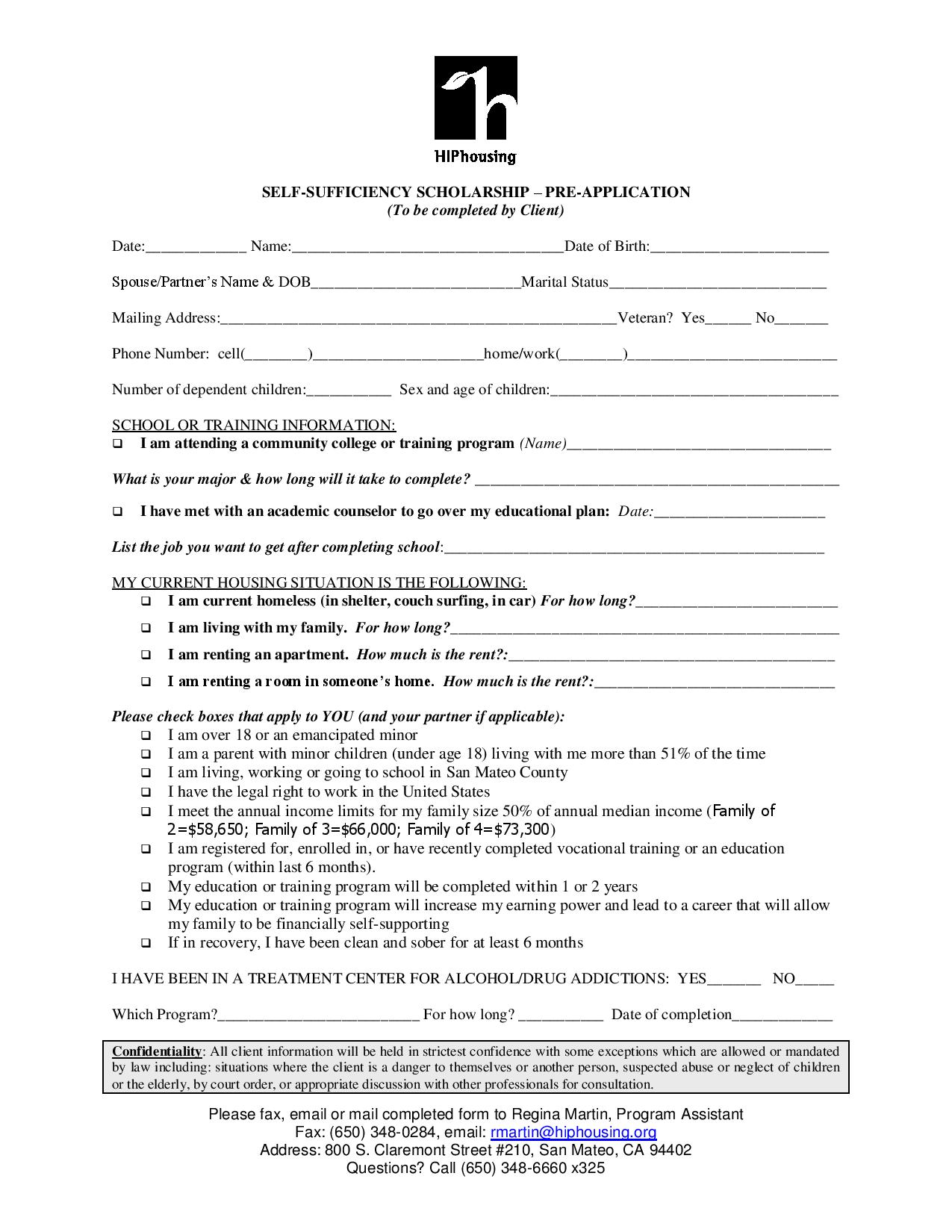 PLEASE NOTE: EVERYTHING SOUTH CITY IS SHARING THIS INFORMATION ONLY. PLEASE CONTACT HIP HOUSING DIRECTLY FOR MORE INFO
Please feel free to write, call, or e-mail HIP HOUSING with your questions at mailbox@hiphousing.org.
HIP Housing Main Office
800 South Claremont Street, #210
San Mateo, CA 94402
tel: (650)348-6660
fax: (650)348-0284
Our business hours are from 8:30 a.m.-5 p.m., Monday – Friday.
HIP Housing Field Offices
2600 Middlefield Road
Redwood City, CA 94063
tel: (650)780-7511
350 90th St., #1
Daly City, CA 94015
tel: (650)389-3129
601 Grand Ave.
So. San Francisco, CA 94080
tel: (650)829-3971