South San Francisco, CA    April 13, 2019  Submitted by SSFPD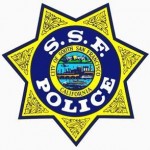 On Thursday evening at 7:18 P.M., a Conrad Furger, a 90-year-old South San Francisco resident was walking across Baden Avenue in South San Francisco when he was struck by a vehicle traveling westbound. South San Francisco Police and Fire personnel responded to several 9-1-1 emergency calls about the collision and located the victim suffering from life threatening injuries. South San Francisco Paramedics transported the victim to a local trauma center for treatment. The driver of the vehicle remained on scene and cooperated with the the police investigation. The investigation revealed that drugs and/or alcohol do not appear to be a factor in the collision.
Officers from the San Mateo County Major Accident Investigation Team (M.A.I.T.) responded and conducted an extensive collision investigation. The 500 block of Baden Avenue was closed for several hours as a result of the investigation.
On Saturday morning 4/13/19 the South San Francisco Police Department was notified by medical personnel that the victim of the collision succumbed to his injuries. This is the first fatal collision in South San Francisco since 2017.
Anyone who may have witnessed the collision, or may have any information is encouraged to contact Officer Zander of the South San Francisco Police Department at 650-877-8900.
###
Everything South City expresses our deepest condolences to all involved, most importantly Mrs. Furger and their family.