South San Francisco, CA  April 29, 2019 Submitted by SSFPD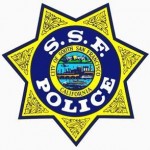 On 4/28/19 at approximately 11:00 p.m., a male suspect entered a restaurant on the 600 block of Dubuque (H.L. Peninsula Restaurant) as the manager was closing. The suspect confronted the restaurant manager at gun point and demanded all his cash. The suspect stole an undisclosed amount of money from the manager and from the cash register. The suspect fled the area in a white SUV in an unknown direction.
The suspect was described as possibly an Asian male adult, 5'5" tall, between 150-160 lbs and brown eyes.
The suspect vehicle was described as a white SUV (possibly a newer model BMW X5).