South San Francisco, CA   April 21, 2019 Submitted by SSFPD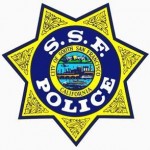 On April 21, 2019 at approximately 1:10 a.m., the South San Francisco Police Department received a 911 call from a private security company that was monitoring the commercial properties at 1 Tower Place in South San Francisco. The caller reported  three  suspects  were  attempting  to  break  into  a secured storage space  in  a  multi-story  garage  structure  that  contained  valuable  construction equipment.
Upon police arrival, three suspects were located as they  were actively  trying to  force  entry into  the secured  area.  When the suspects were alerted to the police presence, they got into a Dodge Ram pickup truck and attempted to flee. During their attempt to flee, the driver intentionally rammed the pickup truck into two fully-marked police vehicles.  During  the process of the intentional  ramming,  an officer was struck by the vehicle. In fear for the officer's life, shots were fired by the police at the driver.
Two of the suspects fled from the pickup and were apprehended at  the scene.  The driver fled in  the pickup truck and led police on a pursuit into the City of Brisbane,  where  he  eventually fled  the vehicle on foot and was taken into custody.
All three  suspects  were  taken  to  local  hospitals  for treatment of non life-threatening injuries. The injured officer was also taken to a local hospital where he was treated for his injuries and released. The officers involved in the shooting have been placed on routine paid administrative leave. There are no outstanding suspects at this time and the case is under investigation by the South San Francisco Police Department and the San Mateo County District Attorney's office.
Anyone with information related to this investigation is  encouraged to  contact  the South San Francisco Police Department at 877.8900 or the  anonymous tipline 952.2244
Arrest information:
Arrestee  Information  (Names of Juveniles Omitted)                      Additional Suspect(s)
Last Name: Griffin
First: Rhyon
Middle: T
Birthdate: 12/28/95
Age: 23
Height: 6′-2″
Weight: 395
Hair: Black
Eyes: Brown
Sex: M
City of Residence: San Leandro
Occupation:
Booking Status:
Charges: Burglary, Conspiracy and Attempted Murder on a Police Officer
Last Name: Kevin
First: Lewis
Middle: M
Birthdate: 01/23/94
Age: 25
Height: 6′
Weight: 175
Hair: Black
Eyes: Brown
Sex: M
City of Residence: Oakland
Occupation:
Booking Status:
Charges: Burglary, Conspiracy and Attempted Murder on a Police Officer
Last Name: Mack
First: Paul
Middle: G
Birthdate: 08/22/90
Age: 28
Height: 6′
Weight: 210
Hair: Black
Eyes: Brown
Sex: M
City of Residence: Oakland
Occupation:
Booking Status:
Charges: Burglary, Conspiracy and Attempted Murder on a Police Officer