South San Francisco, CA  April 20, 2019 Submitted by SSFPD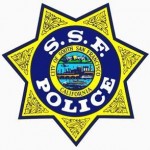 On Friday morning 04/19/19 at about 11:51 a.m., an Hispanic male suspect in his late teens or early 20's committed a theft from a convenience store located on the 1000 block of Airport Boulevard. A store clerk confronted the suspect outside of the business and attempted to prevent him from fleeing the scene in an awaiting vehicle.
The vehicle fled the scene and struck the victim in the process. The victim sustained non-life threatening injuries and was transported to a local trauma center for treatment. The suspect vehicle is described as a white two door vehicle.
Anyone who witnessed this crime or has information pertaining to this case is encouraged to contact the South San Francisco Police Department at 650-877-8900.