South San Francisco, CA   May 14, 2019
Come on out to enjoy a fun filled day at our local favorite tavern, Molloy's, on Saturday June 1st for the 40th Annual Chili Cookoff with proceeds benefiting South San Francisco's Learning Center. This event begins at noon with great tastes of some of the best chili in the country, music, raffles, and lots of good family fun.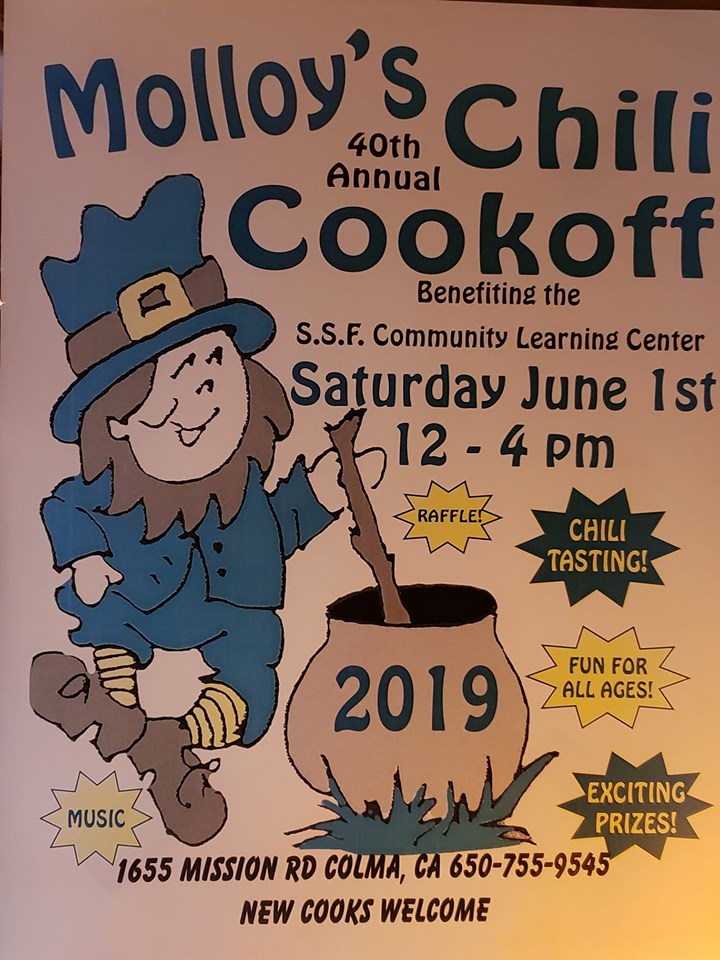 Read more from our archives CLICK HERE:
Native sons, Owen Molloy and Steve Boldenweck, came together once again to raise funds for the Community Learning Center, an organization that came about in 1998 in response to the need for additional resources for our diverse neighbors. Boldenweck's father, the late Bill Boldenweck was a retired newspaper reporter for the SF Examiner and a journalism teacher, and along with his wife Lynn, was dedicated to opening the doors of education to everyone.
The Community Learning Center is located at 520 Tamarck Lane and more information can be found at their website clc@ssf.net or by calling 650/877.8540
Molloy's Tavern, originally built in 1883, has been in Owen Molloy's family since 1927 and Owen is equally committed to educational advances for all. Further Molloy's is dedicated to helping our community and hosting fundraisers for all of our important causes and there is great respect for Mrs. Molloy, Owen and their family.
Molloy's Tavern is located at 1655 Old Mission Road and can be reached at 650/755.1580.