South San Francisco, CA   May 3, 2019 Submitted by Alphonso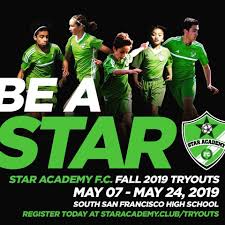 Premier youth football Development club South San Francisco, California
Star Academy FC is holding tryouts for the Fall 2019 season. Tryouts are open to all boys and girls born between 2002 & 2013 and will be held at South San Francisco High School from May 7 to May 24.
Who: Star Academy is holding tryouts for all their youth teams and is looking for boys and girls born between 2002 and 2013.
When: The Star Academy 2019 tryout window will be from May 3rd through May 23rd for the U8-U14 age groups, and from May 10th through May 30th for the U15-U19 age groups. See schedule below for actual dates, times and locations. For alternatives dates within our tryout window period, please reach out to us directly to tryoutcoordinator@staracademy.club
Registration Instructions
Step 1: The Register button will take you to the Stack Sports registration platform.
Step 2: Sign-in to your existing Stack Sports account or create a new one.
Step 3: From the member account home page, click on the Register Now button.
Step 4: On the following screen, select to register for 2019/2020 Tryouts.
Step 5: Fill out the parent and player information.
Tryouts are free. Once registered, you will be sent tryout dates and information.
Star Tryout Schedule CLICK HERE