South San Francisco, CA   June 26, 2019 Submitted by Aubrey Merriman, CEO of Boys and Girls Clubs of North San Mateo County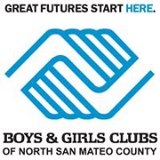 With incredible support from our community of friends, Boys and Girls Clubs of North San Mateo County's 4th Annual Where Great Futures Begins Luncheon at Dominic's at Oyster Point was a fun-filled, day of inspiration and investment.  We are deeply grateful to Chris DeGrande and the staff at Dominic's for being first class partners. We are also grateful to Kamala Silva Wolfe and the staff of Everything South City for their steadfast support. We know that time is valuable and we appreciate that our guests shared it with us. We would like to thank all of our dignitaries, sponsors, supporters, and friends. It was our privilege and pleasure to host you. Where Great Futures Begin Luncheon began in 2016 to support our Summer Day Camp Scholarship Fund which guarantees that those who need us most will experience stimulating, leadership and educational programs, and physically engaging activities in a safe, enriching environment.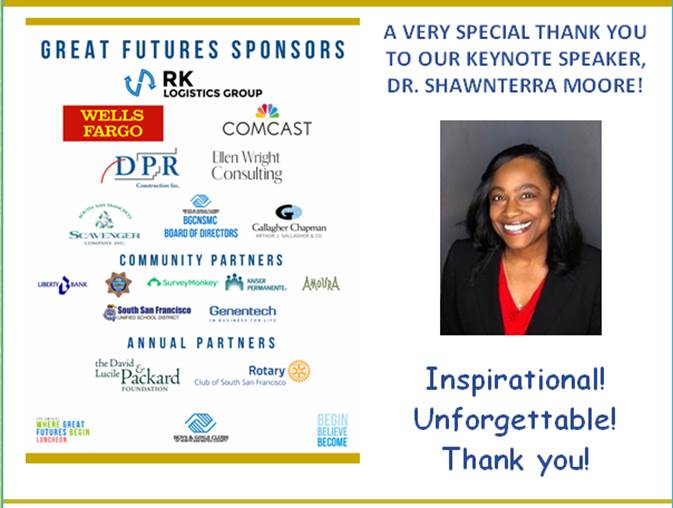 Your financial support directly contributed to our Summer Day Camp Scholarship Fund, which helps underwrite the summer programs and services that we offer to 4,500 youth. We focus on learning loss prevention and expanded learning opportunities that impact low-income youth, who lose more than two months' worth of reading skills, while their middle-class peers make slight gains.  The Club helps to fill the desperate need for affordable and quality, educational engagement, summer programming – through our summer day camp program from 7:30 a.m. to 7:00 p.m. During this time, we provide Club members with access to ample educational opportunities to help kids keep and continue their academic gains.   We are committed to ensuring every young person who walks through the Club's doors has access to quality out-of-school time opportunities, and develop the academic and leadership skills they need on their path to a Great Future.
Imagine a place where who you are, where you are from, or the circumstances that surround you, don't determine your access to opportunities or experiences. Through your support, Boys & Girls Clubs of North San Mateo County will continue to make that vision a reality — in our community and communities around North San Mateo County. What this organization has built here over the past 65 plus years has become a pillar of the community.  Our works truly sands on the shoulders of many people in this community who have helped to build this foundation, and breathe life into our mission to inspire and enable young people to reach their full potential and contribute to their communities. Today, we have 5 locations: three traditional Clubhouses, two school-based sites. Three of those sites are in South San Francisco at Sunshine Gardens Elementary School, Paradise Valley Clubhouse adjacent to Martin Elementary, and our flagship Orange Park Clubhouse site across the street from Los Cerritos Elementary. Where we don't have formal sites yet, we are strategically delivering programs on school campuses during the school day, like lunch time flag football and futsal at Parkway Heights Middle School, partnering with Wells Fargo to deliver Financial Literacy to English Learner Students (ELD) classes at South San Francisco High School, and delivering our research-based, Triple Play Program during lunch time at Ocean Shore School in Pacifica.
Thank you to our school partners – the starting places for every Club kid's journey to a great future. They provide integral resources and introduce us to the students who will make the most of our program.  In partnership with our local School Districts, Schools, Principals, and Teachers, we help students chart their course to great futures. We are grateful for our partnership with Superintendent, Dr. Shawnterra Moore, our esteemed featured speaker, from South San Francisco Unified School District.  Dr. Moore brings a relentless passion and discipline to her work of changing lives and pushing for equitable outcomes. She has both challenged and inspired our Club to apply a similar level of rigor around our work. She is a respected leader and thought partner. Dr. Moore delivered a keynote speech that was authentic, powerful, and uplifting.  Our guests left humbled and inspired by the deep resiliency and resolve she exemplified.  Our Club is proud to partner with you and the District in service to OUR students.
What this organization will build over the next 5-10 years will be very strategic, very methodical, and a very determined effort to make Boys & Girls Clubs of North San Mateo County into a best in class, youth development institution.  One that is tightly integrated with the schools, one that children, teens, families, and communities can depend on day after day, month after month, and year after year for decades to come.
Today, North San Mateo County is home to 323,000 people, of which, 61,000 children are under 18.  There are over 58,000 people in North San Mateo County that live below the San Mateo County poverty level. There are over 38 languages spoken.  One of the most urgent unmet needs within the children and education space is access to after-school care. There are nearly 4,000, and counting, additional after-school care spaces needed to meet the demand in North San Mateo County.  At Boys & Girls Clubs of North San Mateo County, we believe passionately that opportunities for lifelong success should be within the grasp of every single child.  And, we believe the world is a better place when it works for everyone. We will not stop being nimble and pushing for innovative solutions for how to expand our impact, reach more youth, reach new neighborhoods, and develop new programs.
What is our secret sauce?  The short answer is…dedicated, caring adults, partnerships, safe places, safe spaces, and fun!  At Boys and Girls Clubs, we use a Formula for Impact that more formally identifies five key elements for positive youth development: a safe, positive environment; fun; supportive relationships; opportunities and expectations; and recognition. When these are in place, we see positive, measurable outcomes in our three priority areas: academic success, good character and citizenship, and healthy lifestyles.  This is the basis for our holistic approach.  Our challenge and our quest are to enable more youth who most need the Club to have this same opportunity.  What is our view of the future?  There is a much higher level of recognition of the critical importance of out-of-school time as a priority—and more partnerships/tight integration between organizations like Boys & Girls Clubs of North San Mateo County and the education community, because of the impact we have on helping kids advance academically. We are seeing more and more research that provides quantitative evidence of the results quality out-of-school programs can achieve, especially in underserved communities.  Our vision at Boys & Girls Clubs of North San Mateo County is to work toward the day when no child lacks a high-quality, professionally supervised and structured opportunities, and experiences every day, after school and during the summer, as we support equitable educational outcomes. To achieve that, we need your support to leverage your investment to scale solutions.   Thank you again for your time and support.
To learn more about Boys and Girls Clubs of North San Mateo County or if you are interested in supporting our Summer Day Camp Scholarship Fund, please visit us at www.theclubs.org