South San Francisco, CA   July 9, 2019 Submitted by Colma Recreation Department
Join us for our 3rd annual Colma Community Fair!
We will host craft vendors, local businesses, food vendors and have activities for all!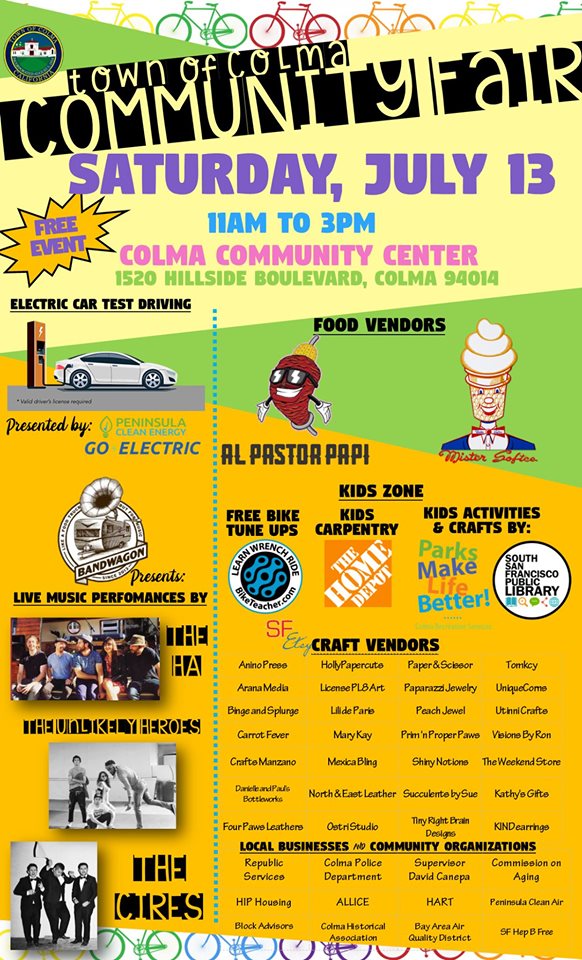 This year's special features include:
Electric Vehicle Test Driving – Sponsored by Peninsula Clean Energy
Award Winning Food Truck – Al Pastor Papi
Music Entertainment – BandWagon SF: Performers TBA soon!
Delicious Desserts by Mister Softee NorCal
FREE Bike Tune ups from Bike Teacher – Bicycle Mechanic Training
Some of the Bay Area Best Craft Vendors from SF Etsy: San Francisco Bay Area Etsy Team and more!
Anino Press
MARY KAY
Succulents by Sue
Mexicabling
SugarCaneApparel
Binge & Splurge
Tiny Right Brain Designs
Carrot Fever
North & East Leather
Tomkcy
Craftsmanzano
OSTRI STUDIO
UniqueCorns
Danielle & Paul's Bottleworks
Paper & Scissor
Utinni Crafts
Four Paws Leathers
Upgrade AccessoReez
Visions by Ron
HollyPapercuts
PeachJewel
The Weekend Store
License PL8 Art
Prim n' Proper Paws
Kathy's Gifts
Lili de Paris
Shiny Notions
KIND earrings
AranaMedia
Your Local Businesses and Community Organizations:
Republic Services
Colma Police Department
Supervisor David Canepa
Commission on Aging
ALLICE
HART
Project Read from South San Francisco Public Library
Block Advisors
Colma Historical Association
The Home Depot
San Francisco Hep B Free – Bay Area
Bay Area Air Quality Management District
Stay tuned for more, visit https://www.colma.ca.gov/communityfair/ or the most current updates or Call us at 650-985-5678 for more information!
VENDORS SPACES ARE NOW FULL: Vendors interested in participating next year may contact Liz Tapia at liz.tapia@colma.ca.gov or call 650-985-5691.