South San Francisco, CA  July 15, 2019 Submitted by SSFPD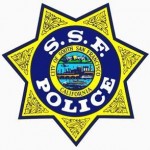 Seven-time Convicted DUI Repeat-Offender Arrested for DUI Again
On 07-15-2019, officers on a special traffic enforcement detail funded by the California Office of Traffic Safety fanned out across the city enforcing speeding violations. One driver was stopped for speeding at 62 MPH in the posted 40 MPH zone on Hillside Boulevard at Holly Avenue. The driver, Orlando A. Barrios DeLeon was found to have a suspended driver's license. DeLeon was also found to have an open container of beer in his car.
DeLeon was determined to be under the influence of an alcoholic beverage and he was placed under arrest for DUI. DeLeon has at least seven prior convictions for DUI, of which four were felony convictions resulting in state prison sentences. DeLeon was booked into the San Mateo County jail for the following charges:
– 23152(a) VC – DUI
– 23152(b) VC – Over.08 % BAC
5(a) VC – Felony DUI with prior felony convictions
2(d) VC – Drive with a suspended license
Additional enhancements were added for driving while DUI at an excessive speed and for driving while DUI with an excessive blood-alcohol level.
The South San Francisco Police Department works proactively with the Department of Motor Vehicles and the California Office of Traffic Safety on the "DUI Hot List" program. This is a program that identifies DUI repeat offenders with suspended driver's licenses. A comprehensive list of information on the drivers is compiled and maintained at the Department. Patrol and Traffic officers are provided with the list and they routinely conduct open and undercover surveillance operations upon the drivers. Although not required, all drivers on the DUI Hot List are mailed informational notices about these surveillance operations and they are warned not to drive.
The South San Francisco Police Department also has a DUI Apprehension and Reduction (DART) team that routinely conducts enforcement and surveillance operations on the DUI Hot List offenders.
Funding for part of these operations comes from a grant by the California Office of Traffic Safety.
Arrestee Information (Names of Juveniles Omitted)                        Additional Suspect(s)
Last Name: Barrios De Leon
First: Orlando
Middle: A.
Birthdate: 04-04-1976
Age: 43
Height: 5-05
Weight: 190
Hair: Black
Eyes: Brown
Sex: M
City of Residence: Daly City
Occupation: Baker
Booking Status: Felony booking – San Mateo County Jail
Charges: 23152(a) VC, 23152(b) VC, 14601.2(d) CVC, 22350.5(a) CVC