South San Francisco, CA  July 31, 2019  Press Release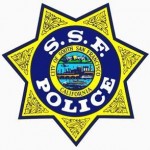 This is the first K-9 gun detection dog in San Mateo County
Last year, the City of South San Francisco Police Department celebrated its 50th year of having  K-9s on its force. This year, they're celebrating another milestone, which is the addition of "Tex," a specially trained K-9 to detect guns – the first of its kind in San Mateo County.
"Sadly, guns are more prevalent now in today's society so having a K-9 that can detect guns is one more step in addressing these growing issues by getting guns off the streets and out of the wrong hands," said South San Francisco Police Chief Jeff Azzopardi.
Tex is able to find concealed guns in homes, outdoor areas, cars, and many other locations by detecting odors a gun emits. Tex completed three months of training to get certified in gun detection and is now on the streets, assisting not only our South San Francisco Police Department, but other jurisdictions as needed.
As the popular saying goes, "A dog is a man's best friend," such is the case with Tex's handler and partner, Officer Adam Kerrigan. "Tex and I became partners in February and have already grown an amazing bond. It is an honor to handle such a well-mannered and intelligent dog. Tex's ability to locate guns will be a great asset to the department in our continuing effort to keep the community safe by being able to locate and take illegal guns off the streets."
The City of South San Francisco's Police Department has a total of seven K-9s trained for patrol and narcotics. Two of the K-9s are assigned to the SWAT team, and two other are on federal task force.