South San Francisco, CA   August 8, 2019  Submitted by Leila Perreras
SMC Law Library Cocktail Reception featuring Congresswoman Jackie Speier!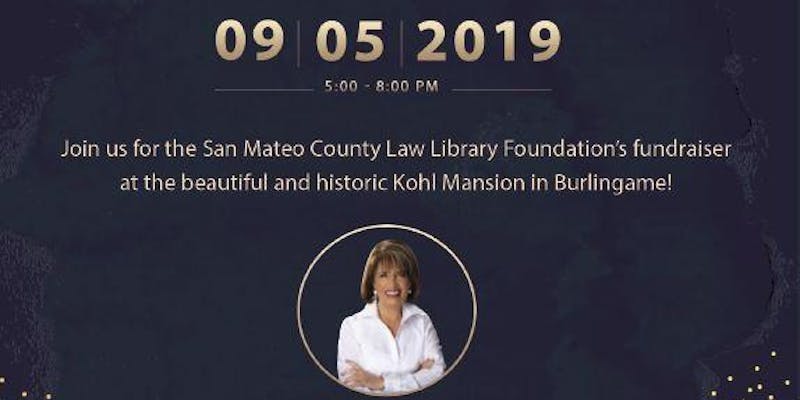 WHEN: Thursday September 5, 2019   5:00 PM – 8:00 PM
WHERE: Kohl Mansion 2750 Adeline Drive  Burlingame, CA 94010
Dear Community Partner:
Over the past 5 years, County Law Libraries state-wide have experienced a decrease in funding with San Mateo County Law Library being no exception. In an effort to save the San Mateo County Law Library, the San Mateo Law Library Foundation was created in 2016 to assist and promote the Law Library through outreach, fundraising, advocacy and volunteerism. With support from sponsors, businesses, and community-based organizations, we are able to continue providing services that aid in locating and understanding the laws which people come into contact daily. Our mission, to provide access to all persons interested in law, is at the core of the work that we do.
We are excited to announce that the San Mateo County Law Library Foundation is hosting an elegant cocktail-style networking reception – fundraiser on Thursday, September 5, 2019 at the historic Kohl Mansion in Burlingame. The event will be from 5 p.m. to 8 p.m. and will be honoring our featured speaker Congresswoman Jackie Speier. Come learn about the law library that has been a wonderful resource to the community to help with legal questions.
Your support will help offset the Law Library's current financial crisis caused by a reduction in funding and increase in costs, and will serve the various San Mateo County constituents in navigating the legal system effectively. Below are a list of sponsorship opportunities. To receive a sponsorship packet please email smclawlibrary@circlecommunications.com or call Leila Perreras at (650) 678-8638.
Thank you for your consideration. We hope to see you on September 5th!
Sincerely,
Caroline Bracco
Executive Director
San Mateo County Law Library
Jeff Loew
President
San Mateo County Law Library Foundation
Presenting Sponsors are:
Corey, Luzaich, De Ghetaldi & Riddle LLP
Cotchett Pitre & McCarthy LLP
Please find the following sponsorship opportunities below still available:
Change-Maker Sponsorship Level- $7,500
o Name and/or Logo displayed on all relevant marketing materials as a "Change-Maker Sponsor"
o Company mentioned by Master of Ceremonies during announcements
o One (1) full-page advertisement in event program
o One reserved cocktail table with company name displayed, priority seating for 5 guests*
o 15* regular tickets or 10 VIP entrance
Catalyst Sponsorship Level – $5,000
o Name and/or Logo displayed on all relevant marketing materials as a "Catalyst Sponsor"
o Company mentioned by Master of Ceremonies during announcements
o One (1) half-page advertisement in event program
o One reserved cocktail table with company name
o 10 regular tickets or 8 VIP entrance
Advocate Sponsorship Level – $2,500
o Name and/or Logo displayed on all relevant marketing materials as a "Advocate Sponsor"
o One (1) half-page advertisement in event program
o 6 regular tickets or 4 VIP entrance
Sustainer Sponsorship Level – $1,200
o Name and/or Logo displayed on all relevant marketing materials as a "Sustainer Sponsor"
o One (1) business card sized advertisement in event program
o 4 regular tickets or 2 VIP entrance
Friend Sponsorship Level – $500
o Name listed on all relevant marketing materials as a "Friend"
o 2 regular tickets to event or 1 VIP entrance
VIP entrance tickets include access to a VIP meet & greet/photo-op with Congresswoman Jackie Speier
Program ads: Business Card/$250 Half-page/$500 Full-page/$750
*Custom opportunities available* please email smclawlibrary@circlecommunications.com