South San Francisco, CA  August 15, 2019 Submitted by SSFPD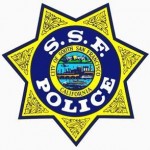 On Thursday, August 15, 2019, at 7:55 am, South San Francisco Police responded to the 700 block of Palm Avenue on the report of an 11 – year old girl that had been accosted by an unknown male adult. The investigation revealed that the girl was walking to school with a classmate when the subject approached them. The subject physically grabbed the 11 – year old and placed his hand over her mouth before being confronted by a good samaritan that witnessed the incident. Police located the suspect, 37-year old Christopher Cole, residing in a nearby adult care home. Upon conclusion of the initial investigation, Cole was ultimately placed under arrest for attempted kidnapping and child annoyance.
Police detectives are actively investigating the motive behind this incident.
Anyone with information regarding the incident is encouraged to contact the South San Francisco Police Department at (650) 877-8900, the anonymous TIP line at (650) 952-2244 or via email at tips@ssf.net.
###
To read the report from the School District CLICK HERE.