South San Francisco, CA  September 7, 2019
South City, beneath it's ever growing building, retains a sense of a small town, and local talk spreads quickly. When long time residents heard one of our favorite downtown eateries might be closing, speculation and rumors began. Ed's Diner has been a staple on Grand Avenue for decades, and knowing Joon's lease would be up in October, locals worried it would not be renewed, rather the building razed, as has happened to so many others in the area, to make room for more high rises.
The excitement is palpable that the lease has been renewed, and Ed's Diner will remain on Grand Avenue! If you have not yet been to Ed's, a visit is in order. They serve old school American fare, delish breakfasts starting at 6am on weekdays, except Wednesdays when they are closed, and 7am on weekends.
Besides breakfast, Ed's is a local favorite for lunches, sitting at the counter, or in a booth, some of South City's favorites are served here!
This was a great Yelp review, by a traveler from Sacramento, Rich H. writes;
I arrived here around 700 am Sunday after a drop off at sfo.  Pulled up and you see a diner right out of a movie. Long bar w stool right and booths to the left  restrooms are way in the back by stockroom
Was greeted w a friendly smile and asked if I wanted coffee   Yay.  Perused the extensive menus and settled on a hot link omelette with well done hash browns and wheat toast
As you can see from photo the portions are ample
Coffee refills were aplenty
Your typical greasy spoon diner.   Food was fresh and coffee great.
I liked the fact that this place wasn't too busy at this time.  Give em a try!
Another visitor, Jacqueline S. from Mountain View, had this to say:
If I could cook great breakfasts and lots of variety … I would like to have their skill and speed. There is a "help wanted" sign in the front window.  Makes sense – the regular crew has been here for years. They are always busy and moving fast …. even so, there is always a smile, coffee refill  and fresh hot food. I often sit at the counter, nice community feel- fast service too.
There are also large and small booths available. Sometimes on weekends there is a line after 10 am, but the wait is minimal 10-15 minutes.
Here's the best part- FOOD. Order anything it's all good. My favorites are blueberry pancakes Combo with eggs, meat and 2 great pancakes. Can try chocolate chips pancakes version too. My husband likes Eggs Benedict and French toast combo. I love the blueberry pancakes!
And Ed's Diner is much loved by locals as  Robert E., from Brisbane exclaims:
Ok… I'm not going to bitch this time!
If you want the one on the best and I mean freakin' outstanding "Old Fashion" breakfasts, look no further! This is my third trip to this restaurant… every time it has been consistently unbelievably great! The omelette is lite, fluffy and huge… the hash browns are perfect and no bitter oil taste… the service is superb! A definite must try… I know I will eat nowhere else for breakfast! I forgot the prices are too good to be true as well!
So next time you get a hankering for some good, ole fashion, American food, served up with much love, in a 'hole in the wall, greasy spoon' with amazing prices – get over to Ed's and join the local celebration of their renewed lease!
Location: 348 Grand Avenue South San Francisco
Street metered parking, parking garage next door
Phone: 650 624-9166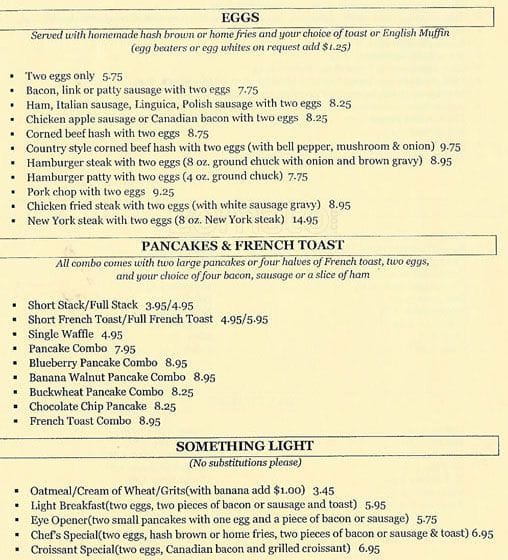 Hours:
Mon

Tue

Wed

Thu

Fri

Sat

Sun