South San Francisco, CA    September 5, 2019 Submitted by Gail Davison, Project Read, Office Assistant/Trivia Donation Coordinator
The Trivia Challenge is the annual fundraiser for Project Read of North San Mateo County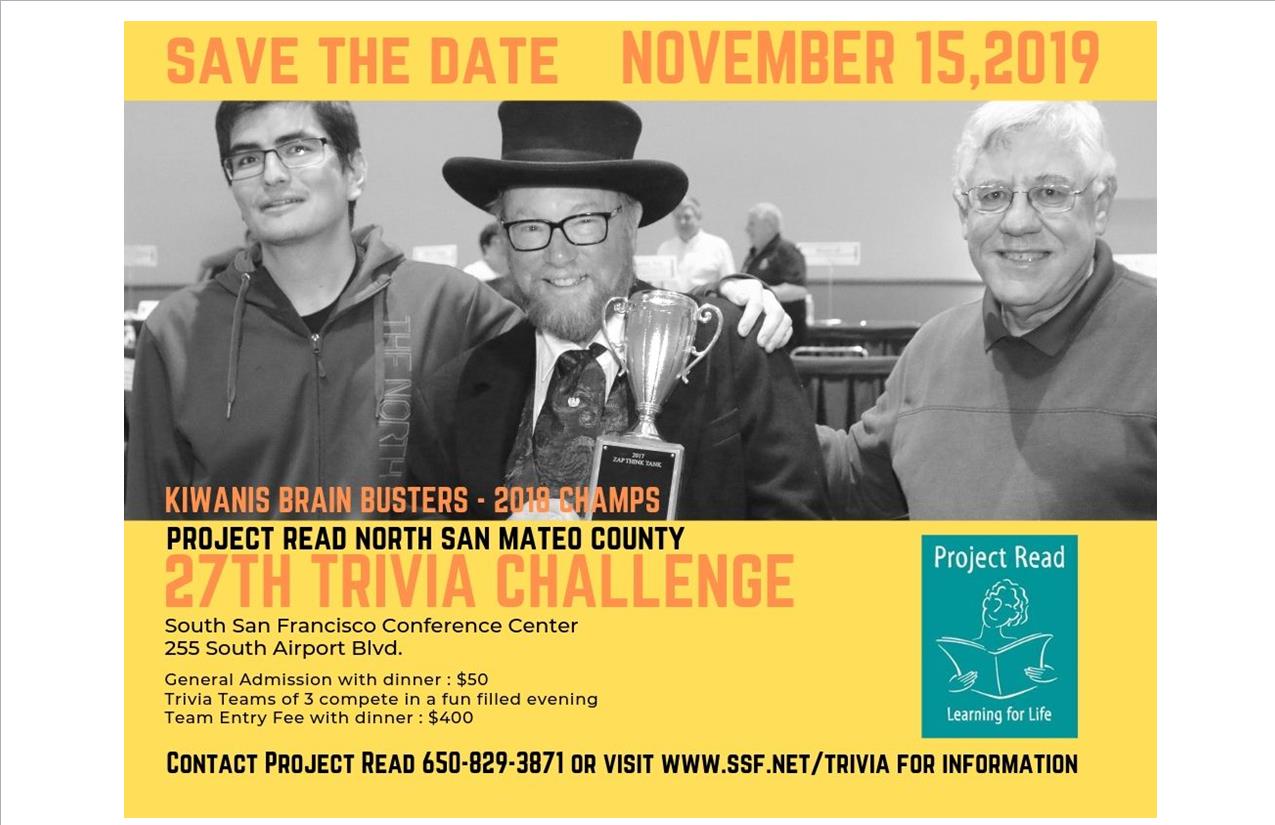 Our very popular Trivia Challenge, one of South San Francisco's finest events, draws wide community attention from a number of sources including the business community, community leaders, and residents from North San Mateo County. Every year, over four hundred people attend this fun-filled event. This year, we celebrate the 27th Anniversary of Trivia Challenge on Friday, November 15, 2019, 5:30 – 9:00 pm at the South San Francisco Conference Center.
Teams of three compete for the distinguished title of "Trivia Champions of Northern San Mateo County." Each year, the winners are added to the Trivia Challenge perpetual trophy and return the following year to defend their title. We also have a "Best Team Costume" competition where teams can come in costume, wigs, t-shirts, hat, or just about anything that exudes FUN. Invite your friends and co-workers to join you for dinner and cheer for their favorite team.
When you arrive, you'll get a preview of our Silent Auction items, be able to purchase raffle tickets, and enjoy beverages from our "No Host" bar. A delicious buffet dinner is served and then the Trivia competition begins.
To support our event, you can:
Become a sponsor of the event: $500 to $10,000  Sponsorship Form
Participate on a team: $400  Team Registration
Attend the dinner and competition: $50  Dinner Reply Form
Buy raffle tickets: $5 for a book of 6
Bid on Silent Auction items such as Disney One-Day Park Hopper tickets and Atlantis Casino Resort Spa Stay in Reno.
Donate merchandise and gift certificates for services for our Raffle and Silent Auction
For more information see our Trivia Challenge Fact Sheet. To contact Project Read call (650) 829-3871 or email Gail Davison.