South San Francisco, CA  October 16, 2019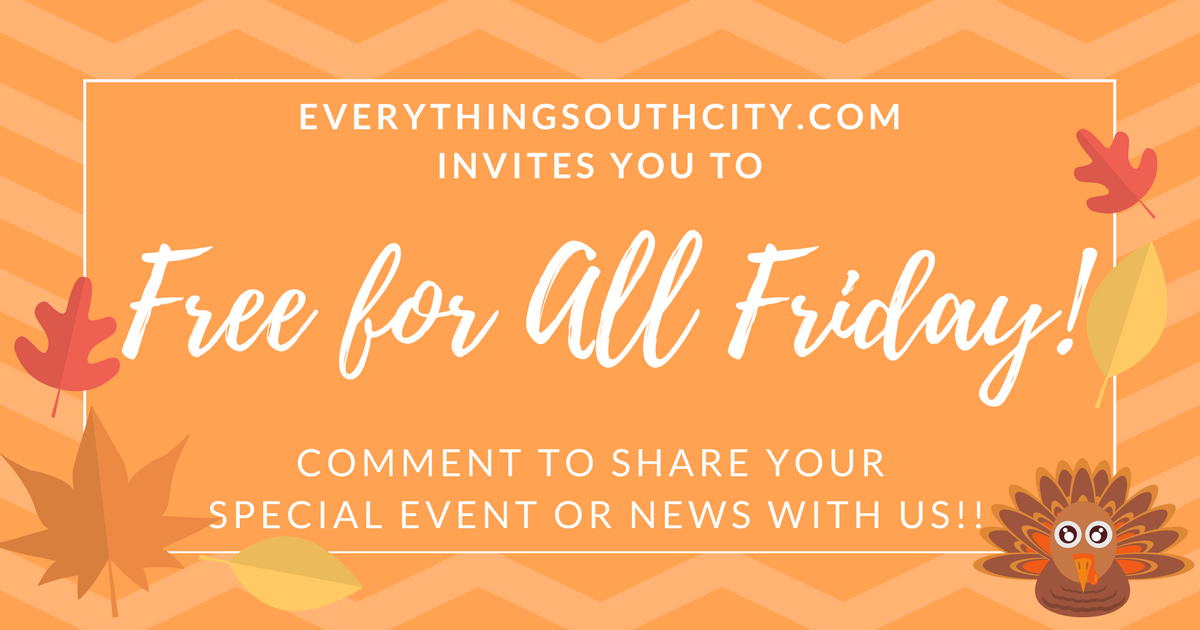 Every Friday for the past five years or so, Everything South City offers a post, FRIDAY FREE FOR ALL, on our Facebook page, inviting our community to:
Invite us to your events!
Promote your business!
Share what's on your mind!
And from time to time we are able to capture the great responses to archive here on our website for future resources.
This FREE opportunity is posted around 7am EVERY Friday and is a great way to get YOUR voice heard and your message out to a larger community.
Here are some of our shares from September 20th:
Anne Tai Thanks again for this opportunity ESC! For folks looking for something fun to do with friends n' fam – especially after school on Fridays, come check out Artists On Wheels Studio and take a look at this fun deal they'll have going on soon. Give the studio a call or stop by during business hours! 611 West Orange Avenue, SSF, Ca. 94080

(650) 588-8619

Erwin Jude Saturday Morning Eskrima Class!

https://www.facebook.com/events/743949569391166/?ti=icl

Wendy Sinclair-Smith This is for tomorrow (Saturday night) and it's free – picture

Karen Lopez Soto Soto Bouncin House & Events

We're very excited to introduce our new service to you! Our kids Chiavari chairs with tables, perfect for the little ones. DM or Email us book your next party with us. www.facebook.com/sotobouncinhouse

Solis Boxing Come check out South City's neighborhood Boxing.

Personal training, group classes, and kid classes available.

Marie Lizette Shawn Estes signing free autographs at Serramonte Center next week

Jennifer Caton Its never too early to start thinking about Halloween! Place your order for your parties! Www.facebook.com/cupcakeheavenbyjenn

Karen Davenport Garage Sale! 73 Belmont Dr. Daly City. Saturday 9/21 9:00 – 2:00

Evolve Training Center Schools back in session!

Don't let bullies get in the way of your child's school year. Join us at Evolve Training Center TOMORROW from 11am – 1pm for our BullyProof Back to School Seminar for kids! Register here: https://www.eventbrite.com/…/bullyproof-back-to-school…

Cally Weise There is going to be a big picnic for anyone interested in Alcoholics Anonymous at Orange park at the tables nearby the dog park. Its from 11am – about 4pm, with a speaker at 2pm, lots of free food, games like badminton, and many good people who are living or want to live a sober life. Everyone is invited, and it should be a good time! Feel free to stop by!

AVON Beauty Center – picture only

Catherine Chu Moore www.fullgripcrossfit.com

Theresa Jiggetts www.SouthCityHope.org

Alex Desch Manieri The Center for Independence of Individuals with Disabilities (www.cidsanmateo.org) has funding available for our Housing Accessibility Modification Program for South San Francisco residents.

This program installs grab bars, hand-rails, stair-lifts, ramps, and other modifications to make homes accessible and safe. Free for income-qualified individuals. Homeowners or renters in South San Francisco are eligible to apply.

For more information, please contact Lisa, our Housing Accessibility Modification Coordinator, at 650-645-1780 Ext. 122.