South San Francisco, CA   October 11, 2019 Submitted by SSFPD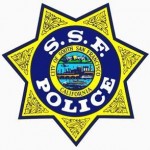 On October 9, 2019, at around 3:44 PM, an armed robbery of a food truck occurred on the 400 block of Victory Avenue. The suspects confronted a food truck employee and demanded money at gunpoint. The victim complied and the suspects stole an undetermined amount of money. Prior to leaving, the victim was pistol whipped and sustained minor injuries. The suspects fled the area in a silver_ Mazda 3. An alert witness obtained the license plate of the Mazda. Officers located the Mazda on the US Highway 101 northbound on ramp at Grand Avenue. Three suspects were detained and subsequently identified as being involved in the robbery. All three suspects were booked into the San Mateo County Jail for armed robbery and criminal conspiracy.
Anyone with information regarding this case is encouraged to contact the South San Francisco Police Department at (650) 877-8900, the anonymous TIP line at (650) 952-2244, or via email at tips@ssf.net.
Arrestee Information (Names of Juveniles Omitted)                                  D Additional Suspect(s)
Last Name: Bourque                               I First: Noah
I Middle:
Birthdate: 07-18-2001     I A e: 18        I Hei ht: 5-08
I Wei ht: 175       I Hair: Bm
I Eyes: Bm
Sex:M           I City of Residence: El Monte
I Occupation: Unemployed
Booking Status: Booked
Charges: 212.5(c) PC, 182(a)(l) PC
Last Name: Zermeno
First: Martin
I Middle:
Birthdate: 03-29-1999     I Age: 20
Heif{ht: 5-08
I Weight: 130       I Hair: Blk
I Eyes: Bm
Sex:M           I City of Residence: Cudahy
I Occupation: Unemployed
Booking Status: Booked
Charges: 212.5(c) PC, 182(a)(l) PC
Last Name: Granados-Munoz                 I First: Juan
I Middle: Carlos
Birthdate: 12-13-1995     I Age: 23        I Height: 5-06
I Weight: 130       I Hair: Blk
I Eyes: Bm
Sex:M           I City of Residence: Pomona
I Occupation: Unemployed
Booking Status: Booked
Charges: 212.5(c) PC, 182(a)(l) PC