South San Francisco, CA   July 3, 2020 by Angelique Presidente, ESC
People across the country are turning to fireworks to help get through the quarantine. With numerous activities still shut down everyone is very limited on what they can do for entertainment. While any and all fireworks are illegal in SSF, people are still getting ahold of them.
There are many sides to this debate. ESC has been getting messages every day about fireworks, understandably when people are getting woken up at 1, 2, or 3 am it becomes more than just a frustration, it evolves into a nuisance, disrespect for other neighbors. Clearly this isn't an issue isolated to SSF, or even San Bruno or Pacifica who are allowed "Safe & Sane" type fireworks yet still have residents complaining about being woken up during the night.
What about those who are being affected? Those who need to get a good night's sleep to be ready for work the next day. Youngsters who already have their life turned upside down being frightfully awoken in the middle of the night?  Pet owners may give meds to help calm nerves on the 4th but they can't do that for weeks at a time. How about those with PTSD that can't hear loud noises without being thrown back into a past traumatic experience?
Some residents could care less and choose to either ignore it or accept it. Some residents have commented, "It's that time of year." "It's to be expected." "Everyone is overreacting".  There may be a feeling that we've given up so much already, just let this slide and give people something to do. We are so limited right now already.
Does this article highlight an end is near to the loud bangs during the night or an end to yet another activity to help us get through these uncertainties times?
What are your thoughts?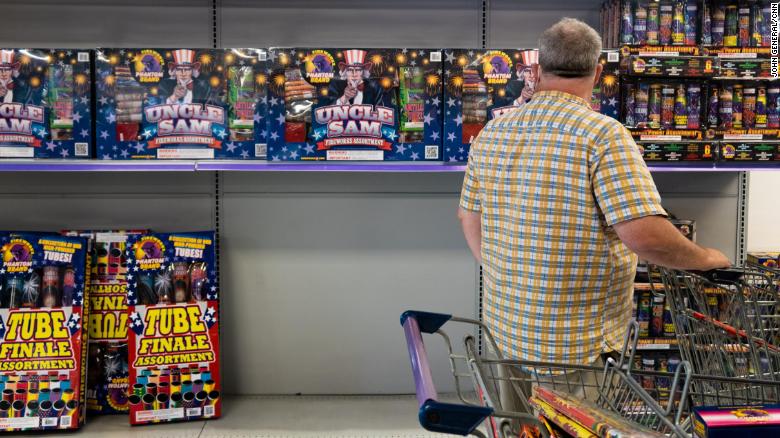 New York (CNN Business)The fireworks business is booming — so much so that America may soon run out.
As the coronavirus pandemic continues,
consumer fireworks sales
, including sparklers and firecrackers, have more than doubled. But imports from China, which supplies more than 90% of the world's fireworks, stalled earlier this year, and industry leaders expect a supply shortage in coming days.
America's sudden
obsession with fireworks
came after the pandemic led to mass cancellations of weddings, sports events and
Independence Day shows
. That sent demand for the professional fireworks used for large events crashing through the floor.
"Traditionally, there are 16,000 Independence Day shows across this nation," Julie Heckman, executive director of the American Pyrotechnics Association, said. "And we're probably looking at about 10% max going forward."
To fulfill their pyrotechnic desires, Americans are buying up loads of consumer fireworks. It's one — explosive — way to
cure quarantine boredom
.