South San Francisco, CA    June 23, 2014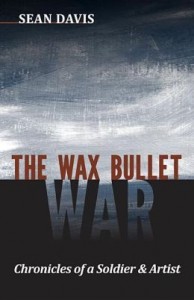 As the 4th of July approaches and we celebrate our country, our SSF Library is offering a special opportunity to meet one of our wounded warriors who has found the healing power through art. Sean Davis was critically wounded in Iraq after re-enlisting in the Oregon National Guard following 9/11.  While there he also lost his best friend in an ambush, among other horrors. Returning  home Davis  needed to deal with the Post Traumatic Stress Disorder (PTSD) and it was through his rediscovery of art that he found the power to heal himself.
The book is powerful and the chance to meet this author and discuss his experience is something we all should take advantage of this July 7th. Davis updates his blog and includes his thoughts on Iraqi today. This FREE event will take place at the MSB 33 Arroyo Drive in the Council Chambers at 6:30pm.  Please share this opportunity with others in our community.  For more information call our library services at 650/829.3860
'This is a story for the mothers, fathers, family, and friends of war veterans. This is a collection of one soldier's memories, for those of us who support the troops but not necessarily the war or the reasons behind it; for those of us who have no idea what soldiers actually go through on a daily basis in Iraq; for those of us who have loved ones who have gone through it.'  The Wax Bullet
Below is an excerpt from Davis' website giving sharing this thoughts about Iraq today.
A Combat Vet's take on what's happening in Iraq right now
Being a combat veteran and someone who wrote a book about the war… More than that- being someone who was critically wounded and lost a good friend during the war, I've been asked what I think about what's happening in Iraq right now. What do I say? I knew it would happen. In my book I describe our actions in trying to bring democracy in Iraq like building sandcastles during low tide. When I was writing my book the first chapter I wrote was in the middle somewhere. It was a chapter called The Kid. I wrote this first because it became my metaphor for the war. Iraq is the kid. My squad is the US. June 22, 2014   TO READ MORE & SEE PHOTOS GO HERE