South San Francisco, CA    February 23, 2015  Submitted by SSFPD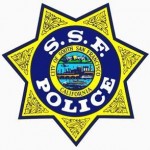 Monday, 2/23/2015; at approximately 2:30 p.m., a thirty five year old female South San Francisco resident was walking westbound on the 200 block of California Ave. when she was approached by a lone male subject armed with a knife who demanded her money. The robber took the victim's wallet with cash and a Nicaraguan Identification Card. The victim struggled with the robber and suffered superficial lacerations that are not considered life threatening.
The victim was transported to a local hospital where she was treated and released.
The robber is described as a White or Hispanic male in his twenties, approximately 5'7″ with a muscular build. He was last seen wearing a tee-shirt with red, white and blue letters and an unknown symbol.
Anyone with information regarding this crime is asked to contact the South San Francisco Police Department at (650) 877-8900. Persons who would like to remain anonymous can call (650) 952-2244 or provide information via email CLICK HERE