South San Francisco, CA    November 5, 2015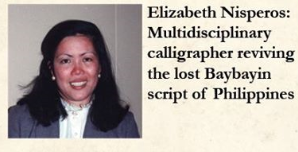 Elizabeth Nisperos,  a South San Francisco resident, who is an Award-Winning Artist & Techie, will be one of the demonstrators to  demo an Ancient 2000 yr-old Script Baybayin  for  Calligraphies in Conversation in 2015.  Former Cultural Arts Commissioner  Nisperos is author of poem "You Can Only Drink Rainbows in South San Francisco", and composer of song "Time Stands Still on South San Francisco Hills".
Demoes  will be at the Oakland  Main Library on Saturday, November 14 for a special program, Calligraphies in Conversation 2015 sponsored by Ziya Art Center and several partner Foundations.  Entrance is Free.
Watch demonstrations by these four notable calligraphic artists
•Rick Paulus, former White House chief calligrapher
•Alan A. Blackman, prominent San Francisco calligrapher and lettering artist
•Elizabeth Nisperos, multidisciplinary calligrapher reviving the lost Baybayin script of the Philippines
•Arash Shirinbab, award-wining artist and Arabic-Persian calligrapher
Later, participate in a hands-on calligraphy workshop and make your own calligraphic art.
When:
Saturday, November 14, 2015
–
2:00pm – 5:00pm
Where: Main Library
Bradley C. Walters Community Room
More info please CLICK HERE