South San Francisco, Ca                             December 7, 2015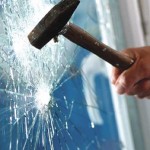 The Buri Buri neighborhood continues to see burglaries even after the Police held a community meeting November 19th. At that time there had been 14 residential break-ins since October 21st; 12 were burglaries and 2 were robberies when the suspects came across residents in homes they most probably thought were empty.
The SSFPD have confirmed additional break-ins including an attempted burglary on  Friday November 20th and a confirmed burglary on Sunday November 22nd. Both were in the Buri Buri area.  Additionally police have confirmed with us today that another two residential burglaries have taken place;  November 29th a residential burglary took place on the lower portion of King Drive and again on December 5th on the top part of San Felipe.
As police are working this active investigation no other information has been released at this time and the Department expresses appreciation for the public's patience as they work to resolve this recent increase in burglaries specifically  hitting the Buri Buri neighborhood. They remind neighbors once again to report any suspicious activity to the Police Department, if in real time please call 911. If you have any information you would like to share anonymously please leave a message on the anonymous tipline at 952.2244.