South San Francisco, CA   July 29, 2016  Submitted by SSFPD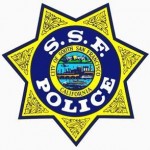 On 07/28/2016, at approximately 3:00 PM, Officers responded to the 300 block of Wildwood Drive on the report of an auto burglary in progress. Upon arrival, Officers contacted (S) Ernesto Garcia of South San Francisco. During the investigation, it was determined that Garcia had attempted to open the doors of approximately four parked vehicles and the front doors of several nearby residences. It was also determined that Garcia stole a package from the front porch of one of the residences. Garcia was arrested for attempted burglary, prowling, and theft and booked into the San Mateo County Jail.
###
A neighbor in the Brentwood area gave us information yesterday along with this photo of the arrest. Thank you to the neighbors who called police when they encountered suspicious activity.
A little police action in Brentwood this morning.  Appears this person was attempting to break into  a neighbor's car. There was a great response from police as you can see the 'perp' is being placed in the back of the police car.