South San Francisco, CA   September 14, 2017 
The earth hiccuped with a 3.3 earthquake near San Jose earlier today causing a bit of an alarm in the shadow of our Southern neighbor's in Mexico's after the disastrous 8.1 that hit them on the 8th leaving nearly 100 dead and continuing  damage from fierce aftershocks.
We look back to this date, September 14, 1995 when a M7.4 hit Guerrero, Mexico with these devastating results reported by the USGS: 'Three people killed, nearly 100 injured, 500 homeless and extensive damage in Guerrero. Several people injured, 400 homeless and considerable damage in Oaxaca. Some minor damage occurred in Puebla and at Mexico City. Felt strongly along the Pacific coast of Mexico from Michoacan to Chiapas."
While much of our west coast attention has been on these treacherous wildfires, we must remember we do live in earthquake country and each and everyone of us has a responsibility to ourselves, our families, and our community to be prepared to take care of ourselves and loved ones. Don't be scared, be prepared – for any emergency!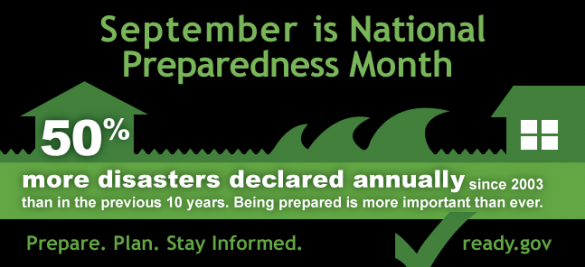 September is National Emergency Preparedness Month:Sponsored by the Federal Emergency Management Agency (FEMA) within the Department of Homeland Security, National Preparedness Month encourages Americans to take steps to prepare for emergencies in their homes, businesses, schools, and communities.
Are YOU prepared? There are some simple things we can do to help protect ourselves from becoming victims that are relatively easy to complete including compiling items we would need after an emergency.
*Secure your free standing tall furnishings and water heater. News agencies reported a young child is in critical condition after the fire place fell on him during this morning's quake. Prepare to prevent injuries now.
* Put shoes or slippers next to your bed. Should there be broken glass and you step in it you are immediately a victim and will need help, rather than being able to help others.
* Invest in a hand crank multi-use radio/ flashlite/ alarm/ charger to use should power go off and mobile devices run out of power.
* Keep cash on hand because of power outages many stores may not be able to run registers or process credit cards.
*Always have enough medication to last a month should there be a major disruption making refills unavailable
*Designate a contact person out of the area that all family members/ friends check in with since local phone access might be limited.
* Always keep at a minimum 1/2 tank of gas in your vehicle since gas stations may be compromised and/ or have a run on filling up tanks.
* Keep your house & car keys in a specific location so you don't have to search for them
*Grab one of the kids old backpacks and start adding basic supplies as you can. The backpack will be ready to go with you should you need to evacuate your home or work place. The important thing is to get started and not be overwhelmed in creating this emergency supply bag. Below are a few suggestions for supplies of which you might have some already in your home:
*Duct Tape *Heavy Duty Plastic Bags  *Sturdy shoes  *Good Socks  *Heavy Duty Gloves *Indelible Pen *Notebook *Medications *Baby or Special Items  *High Protein Foods Like Tuna Power Bars, etc *Bottled Water *Change of Clothes *Jacket *Copy of Documents In Ziplocks *First Aid Kit
The City of South San Francisco offers an excellent course on emergency preparedness through the fire department; Community Emergency Response Team aka CERT. This training covers first/aid, CPR, use of fire extinguisher, shut-off gas, electric and water utilities following a disaster as well topics that will ensure that you can do the greatest good for the greatest number of victims, while protecting your self from becoming a victim. Graduates are encouraged to become members of the Fire Department's CERT program. Call the CERT Hotline for upcoming class dates (650) 829-4336 or contact
Ken Anderson HERE
.
More on our SSF CERT on Everything South City
CLICK HERE 
More on SSF CERT from the City website
CLICK HERE
and use their search feature