South San Francisco, CA   June 14, 2018  Submitted by SSFPD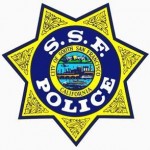 On January 4th, 5th and 6th 2018, an attempted vehicle theft turned vehicle burglary, vehicle theft and vehicle burglary occurred in South San Francisco. During the vehicle burglary on January 5, 2018, the suspects stole the victim's garage door remote and subsequently burglarized the garage of their residence the following day in San Jose. All of the crimes occurred at residences located in the Westborough  area of South San Francisco along the 'Greendale Loop' near Fairfax Way (3900 Block)
Investigation led to the arrest of four suspects : 19yo unemployed Leon Gregorio, 23yo Drywall Installer Julio Mejia, 20yo unemployed Carlos Camarena and 23yo Construction Worker Juan Lopez, all out of San Jose. All four suspects were booked into the San Mateo County  Jail on a felony  arrest warrant issued as a result of this investigation. The investigation revealed the suspects specifically targeted modified import vehicles (i.e. Honda, Acura, Mazda) and parts to include but not limited to: hardtops, wheels and tires, intakes, racing seats and racing steering wheels. The group of suspects likely committed numerous vehicle thefts and burglaries throughout the Bay Area, primarily in Santa Clara County.
Search warrants at the suspect's residences resulted in the  seizure of several  modified  vehicles  under the control of the suspects and numerous aftermarket vehicle parts believed to be stolen. Investigation is on-going to attempt to locate the owners of the property seized as a result of this investigation. Investigation is continuing to identify and apprehend additional suspects involved with this crew.
Anyone with information related to these incidents is encouraged to contact the South San Francisco Police Department at 650-877-8900.