South San Francisco, CA   October 18, 2018  Submitted by Ariel Cherbowsky Corkidi, Programs Director

Get those winter gardens ready and full of super local native plants sourced right from San Bruno Mountain at the Mission Blue Nursery on Saturday November 3, 9am-2pm. The Mission Blue Nursery is located behind the Fire Station in Brisbane at 1 Mountain Flora Parkway, Brisbane.
SPECIAL FEATURE!! HABITAT GARDENING talk at 11AM by Dr. Ros Johnson, PhD in Wildlife Ecology with discuss 'Urban wildlife conflicts with people: Maximizing tolerance and minimizing friction'.
For more information please check out San Bruno Mountain Watch website – CLICK HERE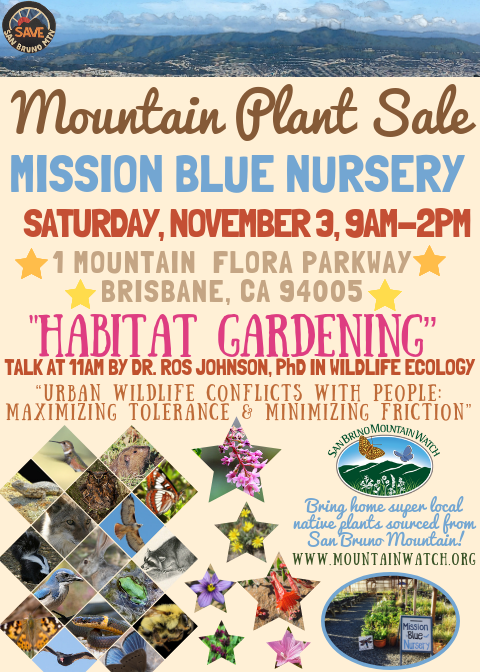 Can't make it on Novem 3rd? Set up a plant sale by appointment and visit us at your convenience!
To get inspired about growing natives in your garden – check out the California Native Plant Society's Gardening Program, whose mission is to support and encourage the use of California natives. And be sure to visit our Why Garden with Natives? page where you'll find some good advice and links to native gardening resources.
You can get paid to transform your yard by replacing a water-thirsty lawn with water-efficient landscaping. Check out the Lawn be Gone! program by the Bay Area Water Supply and Conservation Agency (BAWSCA). The San Mateo Countywide Water Pollution Prevention Program has partnered with the BAWSCA to help residents purchase rain barrels. Check out their Rain Barrel Rebate Program.