South San Francisco, CA   December 27, 2018 Submitted by SSFPD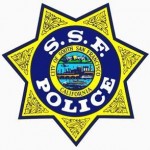 On Wednesday, 12/26/2018 at approximately  0555 hours, a 37 year old  male was struck  by a vehicle  as he was crossing the street in the pedestrian crosswalk at the intersection of East Grand Avenue at East Grand Avenue. The male sustained major but non-life threatening injuries, and was subsequently transported to a local trauma center for medical attention.
If anyone has any information regarding the collision, please contact the South San Francisco Police Department at 650-877-8900.