South San Francisco, CA  April 29, 2019
Local happening hot spot, 47 Hills Brewing Company, now has announced another great reason to visit: Sunday Brunch! Located at 137 South Linden Ave. South San Francisco, this fun filled brewery offers not only the best in local (and world wide!) brews and great bites to enjoy indoors or on their sunny patio that is dog friendly.
The new addition of brunch, which will be served every Sunday from 11am-2pm, offers some great dishes as shown in the menu below. Enjoy!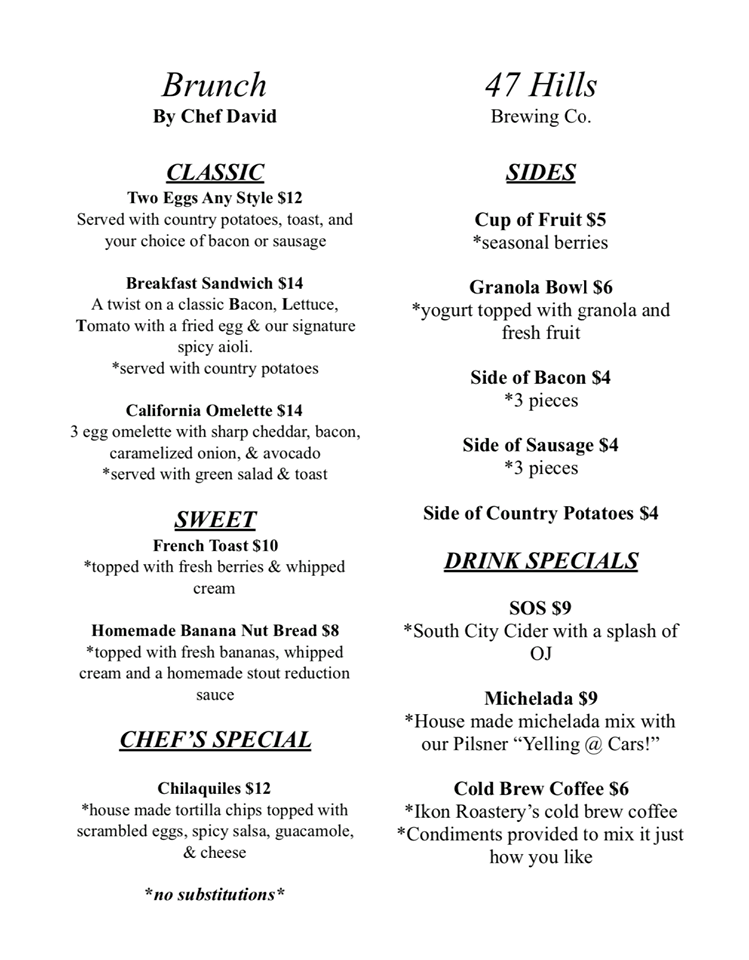 47 Hills Brewing Company is a great gathering place for groups, including our own Library Book Club, great for parties, or stopping by to meet up with friends. Self described as:
Enriching the community is the singular goal of 47 Hills Brewing Company. We cherish our employees and customers and create the most balanced and interesting beers we can by using innovative brewing traditions and environmentally sensible practices. Our taproom encourages all walks of life to take part in lively conversations and togetherness. Within our doors, the elements of a healthy community come alive.
Tap Room Hours
137 South Linden Ave.
South San Francisco, CA
94080