South San Francisco, CA  August 13, 2017 Submitted by SSFPD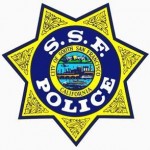 On Saturday, August 12th at about 3:00 AM, South San Francisco Police Officers and South San Francisco Fire personnel were dispatched to the 1500 block of Hillside Boulevard on the report of a traffic collision. Officers located a vehicle that had collided into a parked vehicle.
The police investigation revealed the driver of the vehicle, identified as 28-year-old Albert Lopez, was driving his vehicle under the influence of alcohol and was responsible for the collision. Lopez was placed under arrest for driving under the influence and taken to the hospital for treatment of non-life-threatening injuries.
Anyone with information regarding this incident can contact Officer Tvrdik at 650-829-7263 or call the South San Francisco Police Department Anonymous TIP line at 650-952-2244.