South San Francisco, CA   February 4, 2018 Submitted by SSFPD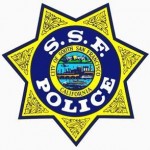 On 02/04/2018 at approximately 0046 hours, South San Francisco Police officers responded Walgreens in Westborough Square on a report of a theft in progress. While checking the area for the suspects,  the  vehicle was located in a nearby gas station. Officers effected a traffic stop on the vehicle and shortly after contact was made, the suspects fled the area in what was later determined to be a stolen vehicle. While fleeing the scene, an officer sustained minor injuries as a result of being struck with part of the vehicle.
The vehicle, a black 2006 BMW 325i, was later located unoccupied in San Francisco where it was recovered and processed for evidence. Information inside the vehicle led to the discovery of the identities of the male and female suspects. At this time the suspects are outstanding, however warrants for multiple felony charges are pending.
Anyone who may have witnessed the incident or can provide additional information is  asked  to  call  the  South  San Francisco   Police   Department   at  (650)  877-8900,   the  anonymous  TIP   line  at  (650)  952-2244,  or  through   e-mail  tips@SSF.net