South San Francisco, CA   July 29, 2018
Because we have a lot of folks with family, friends and homes in
#wildfire
regions of
#CA
here is an update on some of them – follow the link CLICK HERE to get updates on all
CAL FIRE
activity. Please note, some fires are under the
US Forestry Dept
and not
#CalFire
.
#CarrFire
in Shasta County:
89,194 acres – 5% contained where our
#SSFFD
are deployed More info CLICK HERE

#MendocinoComplex
Fire in Mendo County can be followed at
Mendocino Sheriff
too – includes
#RiverFire
11,028 acres – 5% contained CLICK HERE AND
#Cranstan
Fire in Riverside County:
#Ferguson
Fire in Mariposa County:
#Whaleback
Fire in Lassen County:
Above are the largest fires with smaller fires also burning.See the map below for current conditions in California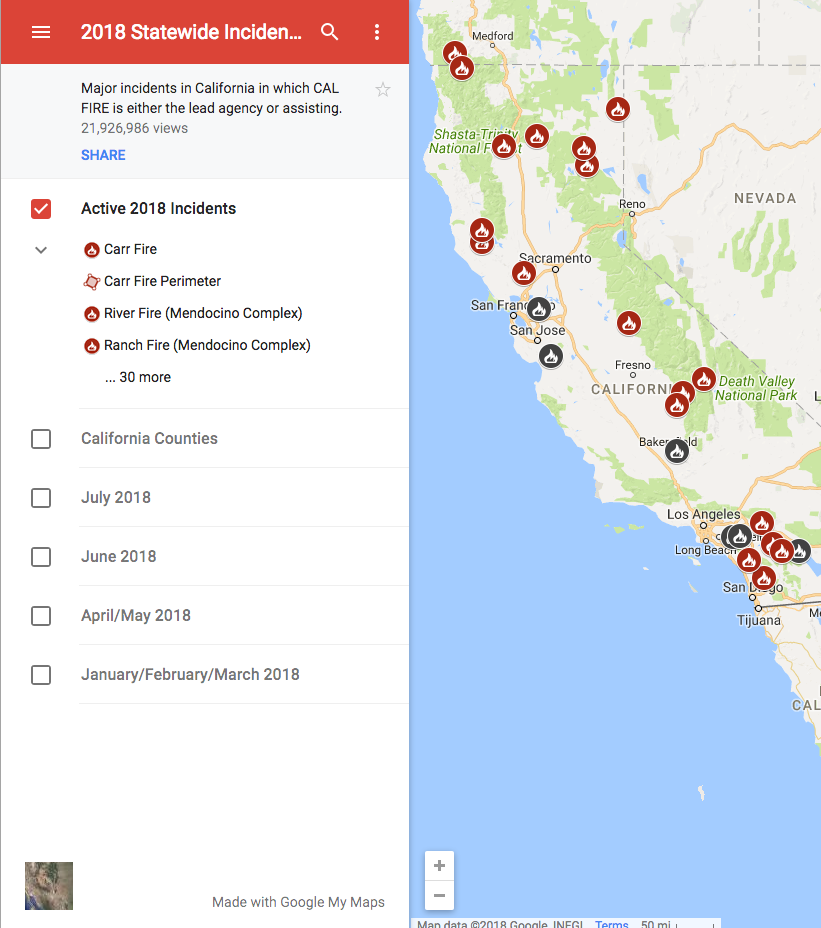 California Wildfires – Hundreds in Red Cross Shelters after Fleeing Their Homes
A massive wildfire that began earlier this week in northern California has already destroyed more than 44,000 acres and forced hundreds of residents from their homes. The American Red Cross is there, providing shelter and comfort for those affected.
One of several large wildfires in California, the Carr Fire near Redding, California, is only about three percent contained. The fire has destroyed some structures and is threatening hundreds more. Mandatory evacuations were ordered throughout the region, leading to heavy traffic as people tried to get out of parts of Redding. The city is home to as many as 92,000 people and is located about 100 miles south of the border with Oregon.
More than 620 people sought refuge from the inferno overnight in four Red Cross shelters. Red Cross disaster workers have numerous other shelters, cots and shelter items on stand-by to be able to respond quickly if needed. The Red Cross is working closely with state and local officials to expand the relief response if necessary to make sure people get the help they need.
STAY IN TOUCH People can reconnect with loved ones through both the Red Cross Safe and Well website at redcross.org/safeandwell and by using the "I'm Safe" feature of the Red Cross Emergency App. The Safe and Well site allows individuals and organizations to register and post messages to indicate that they are safe, or to search for loved ones. The site is always available, open to the public and available in Spanish. Registrations and searches can be done directly on the website. Registrations can also be completed by texting SAFE to 78876.
DOWNLOAD RED CROSS APPS The Red Cross app "Emergency" can help keep you and your loved ones safe by putting vital information in your hand including shelter locations and severe weather and emergency alerts. The Red Cross First Aid App puts instant access to information on handling the most common first aid emergencies at your fingertips. Download these apps by searching for 'American Red Cross' in your app store or at redcross.org/apps.
HOW YOU CAN HELP You can help people affected by disasters like wildfires and countless other crisis by making a gift to American Red Cross Disaster Relief. Visit redcross.org or text REDCROSS to 90999 to make a $10 donation. Your gift enables the Red Cross to prepare for, respond to and help people recover from disasters big and small. Contributions may also be sent to your local Red Cross chapter, or to the American Red Cross, P.O. Box 37864, Boone, IA 50037-0864.
You can also help people affected by the California wildfires. Donors can designate their donation to the California wildfires relief efforts and the Red Cross will honor donor intent. The best way to ensure your donation will go to a specific disaster is to write the specific disaster name in the memo line of a check. We also recommend completing and mailing the donation form on redcross.org with your check. The Red Cross honors donor intent, and all donations earmarked for California wildfires will be used for our work to support these disasters.
BEFORE A FIRE OCCURS Remove anything that can catch fire from around your home, garage and outdoor shed, including firewood and propane tanks. If it's flammable, keep it away from your house, deck or porch. Obey outside burning bans when issued. Other things you can do to be prepared include:
Keep your gutters and roofs clean. Remove dead vegetation and shrubbery from your yard. Keep your lawn hydrated.
Select building materials and plants that resist fire.
Make sure driveway entrances and your house number or address are clearly marked.
Set aside items that can be used as fire tools – a rake, axe, hand or chain saw, bucket and shovel.
Identify and maintain a good water source outside your home. Examples include a small pond, well or swimming pool.
IF A FIRE OCCURS Listen to your local media for updates on the fire and be ready to leave quickly. Back your car into the garage or park it in an open space facing your direction of escape. You should also:
Keep your pets in one room so you can find them quickly if you have to evacuate.
Arrange for a temporary place to stay outside the threatened area.
Keep your indoor air clean – close windows and doors to prevent the smoke outside from getting in your home.
Use the recycle mode on the air conditioner in your home or car. If you don't have air conditioning and it's too hot to be inside, seek shelter somewhere else.
If smoke levels are high, don't use anything that burns and adds to air pollution inside such as candles, fireplaces and gas stoves.
AFTER THE FIRE Don't go home until fire officials say it is safe. Be cautious entering a burned area – hazards could still exist. Avoid damaged or downed power lines, poles and wires. Other things to do include:
Keep your animals under your direct control. Hidden embers and hot spots could burn them.
Wet down debris to minimize breathing dust particles.
Wear leather gloves and shoes with heavy soles.
Throw out any food that has been exposed to heat, smoke or soot.
Recheck for smoke or sparks throughout your home for several hours after the fire, including in your attic. Wildfire winds can blow burning embers anywhere so check for embers that could cause a fire.
CORPORATIONS HELP The generous donations from members of the Red Cross Annual Disaster Giving Program (ADGP) and the Disaster Responder Program enable the American Red Cross to prepare communities for disasters big and small, respond whenever and wherever disasters occur and help families during the recovery process.
ADGP $1 Million members are: Adelson Family Foundation; American Airlines; Anheuser-Busch Foundation; Anthem Foundation; Bank of America; Brown & Brown, Inc.; Caterpillar Foundation; The Clorox Company; ConocoPhillips; Costco Wholesale; Delta Air Lines; Enterprise Rent-A-Car Foundation; FedEx; Grainger; The Home Depot Foundation; LDS Charities; Lowe's Companies, Inc.; Mazda North American Operations; Microsoft Corp.; Nationwide Foundation; New Balance Foundation and New Balance Athletics; PepsiCo Foundation; State Farm; VSP Global; Walmart and the Walmart Foundation; and The Walt Disney Company.
ADGP $500,000 members are: 21st Century Fox; Altria Group; AmazonSmile; American Express; Aon; Capital One; CBS Corporation; Cisco Foundation; Citi Foundation; Darden Restaurants, Inc. Foundation; Discover; Edison International; Energy Transfer/Sunoco Foundation; Ford Motor Company; General Motors Foundation; Humble Bundle; International Paper; John Deere Foundation; Johnson Controls; LabCorp; Medtronic Foundation; Meijer; Merck Foundation; Mondelēz International Foundation; Procter & Gamble Company; PwC; Southwest Airlines; Target; Tata Consultancy Services; TD Ameritrade; The TJX Companies, Inc.; United Airlines; UPS; The USAA Foundation; The Wawa Foundation; and Wells Fargo.
Disaster Responder Program members are: 7-Eleven Cares Foundation; Adobe; AdvoCare International L.P.; Alliance Data; Assurant; AT&T; AvalonBay Communities, Inc.; Avangrid Foundation; AXA; The Ball Foundation; Barclays; BMW of North America; Boise Paper; CarMax; Cox Automotive; Duke Energy; Entergy Corporation; Farmers Insurance; Harbor Freight Tools Foundation; Hewlett Packard Enterprise Foundation; HP Foundation; HSBC Bank; IBM Corporation; Ingersoll Rand Foundation; The J.M. Smucker Company; Land O'Lakes, Inc.; Mastercard; Morgan Stanley; Neiman Marcus Group; Northrop Grumman Corporation; Northwestern Mutual and the Northwestern Mutual Foundation; Prudential Foundation; Raytheon Company; Ryder; SC Johnson; Southeastern Grocers Home of BI-LO Harveys Winn Dixie; Standard Textile; Stearns Bank; Toyota; U-Haul International; United Technologies Corporation; U.S. Bank; and Visa.
About the American Red Cross:
The American Red Cross shelters, feeds and provides emotional support to victims of disasters; supplies about 40 percent of the nation's blood; teaches skills that save lives; provides international humanitarian aid; and supports military members and their families. The Red Cross is a not-for-profit organization that depends on volunteers and the generosity of the American public to perform its mission. For more information, please visit redcross.org or cruzrojaamericana.org, or visit us on Twitter at @RedCross.